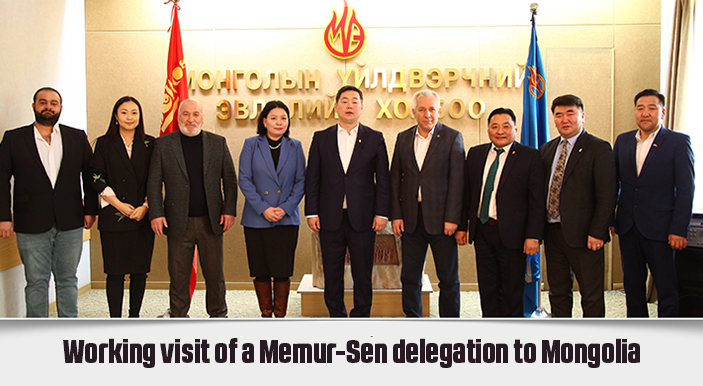 Working visit of a Memur-Sen delegation to Mongolia
---
27.02.22, Sunday
A delegation of the Memur-Sen Confederation, consisting of Vice Presidents Mehmet Emin Esen and Hacı Bayram Tonbul as well as International Relations Advisor Uğur Müftüoğlu visited Mongolia for working and exchange visits. The delegation first visited Erdenebat Sukhbatar who was elected President in December at the General Assembly of the Confederation of Trade Unions of Mongolia (CMTU).
The parties reviewed the situation of the trade union movement in Central Asia in general, and stressed the importance of joint work in these countries in particular. In the framework of bilateral cooperation, the delegations exchanged views on the possibilities of strengthening the partnership and highlighted the importance of trade union organisations in advancing social justice and promoting decent work.
In addition, the Memur-Sen delegation was received by Munkhbayar Tserensodnom, Director of the Cultural Centre, and Bayarmaa Gursed, Director of the Labour and Social Protection Institute of the Mongolian Confederation of Trade Unions (CMTU). This meeting marked the common will of the delegations to carry their strong historical and cultural links into trade union cooperation.