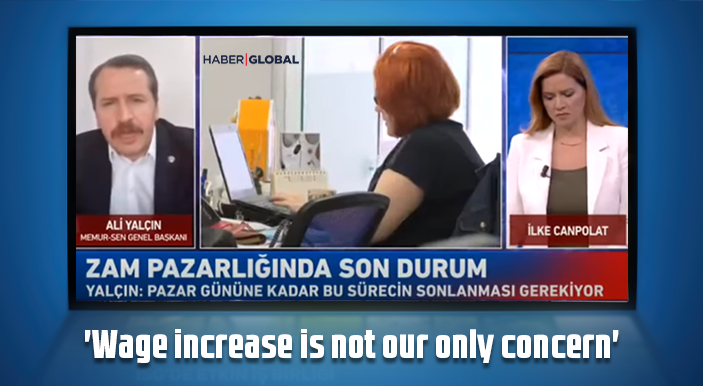 Yalçın's intervention on Bloomberg HT's TV sets
---
19.08.21, Thursday
As a live guest on Bloomberg HT, Ali Yalçın, president of Memur-Sen, was asked about the government's counter-offer on wage increases for the years 2022 and 2023. Yalçın stressed that "the public employer will have to review its copy regarding the salary increase but it will also have to respond on each of the points that were addressed to it by Memur-Sen".
Pointing out that Memur-Sen had demanded a 38% wage increase for the next two years, Yalçın added: "Wage increase is not our only concern, in addition to an additional 6% increase in order to catch up in terms of social welfare of public employees, we have demanded a compensatory increase of 600 TL/month, as a compensation for the losses incurred over the period of previous collective agreements that Memur-Sen had refused to co-sign." he said.
Criticizing the inadequacy of the counter-offer presented by the public employer, Ali Yalçın said he was concerned and baffled by the government's unrealism and inconsistency: "The government's proposal of 5% + 6% for the year 2022 and 6% + 6% for the year 2023 is totally meaningless, given that the inflation of the last twelve months is 20%, we ask the government to reconsider", he said.
In addition, regarding the situation of public employees under contract and the increase in the indexed rates of retirement pensions, Yalçin added: "Although no clear statement on the subject has been made by the public employer, we believe that it is necessary to take into account the social welfare of workers. On this particular point, we will show the utmost conviction and intransigence," he concluded.