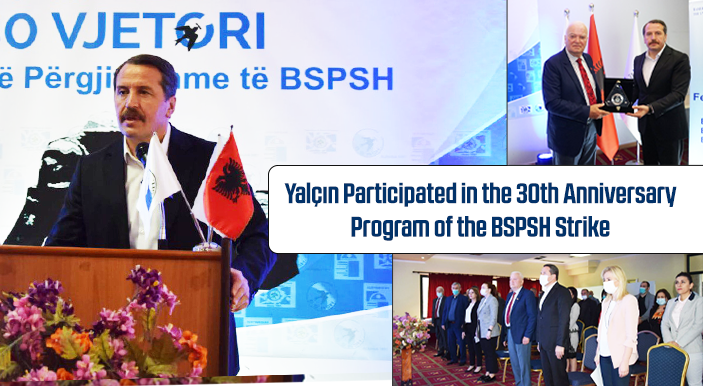 Yalçın Participated in the 30th Anniversary Program of the BSPSH Strike
---
17.05.21, Monday
Ali Yalçın, President of Memur-Sen Confederation, participated in the program organized by The Union of Independent Trade Unions of Albania for the 30th anniversary of the hunger strike of Valias Mining Workers. 
Speaking at the program organized by The Union of Independent Trade Unions of Albania (BSPSH) on the 30th anniversary of the Valias Miners' hunger strike, which triggered the collapse of the communist regime in Albania in 1991, Memur-Sen President Ali Yalçın said that the action carried out by the miners is not very important only for Albania but also for the history of world trade unionism.
Stating that the action initiated by BSPHS President Gezim Kalaja has led to a radical change, Yalçın said, "The achievement of BSPSH, which came to this day under the leadership of President Mr. Kalaja, to its 30th year with such an important mission can only be respected and appreciated."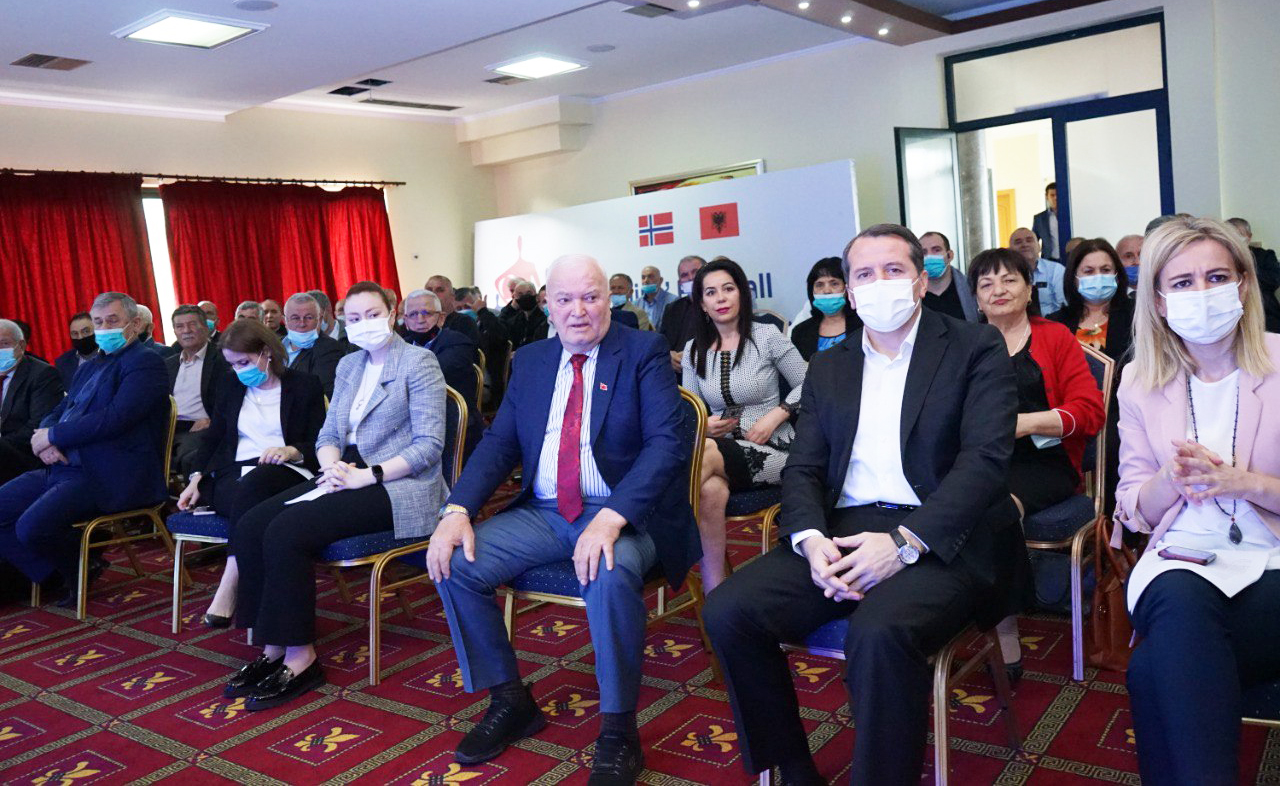 Stating that throughout history, many unions emerged in the world, but there were rarely unions that wrote history and changed the course of history, Yalçın said, "BSPSH is one of the few trade unions that made history in the world, opposing the communist regime, fought a strong struggle for the freedom and democratic rights of the Albanian people and it is a union that changed the history" he said. 
Emphasizing that the world has been shaken with great crises in recent years, Yalçın said, "Economic and political crises have now became a part of our lives. Covid-19 haunted humanity in just such an environment. States and societies are tired of dealing with this pandemic. Crises have deepened in many economies. 
The capitalist world system is experiencing perhaps the worst crisis in its history. In such an environment, the wave of violence produced by capitalism and its ram imperialism is spreading all over the world". 
Saying that what Israel has done in Palestine should also be evaluated in this context, Yalçın said, "Indeed, a great crime against humanity is being committed in Palestine. "Let me be clear, Israel, which provides its legitimacy with the Holocaust industry, is committing a crime of genocide in the eyes of the world." 
Saying that all labor organizations in the world should take initiative for labor, for freedom, for justice and for humanity due to the violations of rights in Palestine, Yalçın said, " it should make a stronger sound. 
You ask why? Today, what is done in al-Quds and what is done in Masjid al-Aqsa is being done against all humanity. "While Israel feeds on this outdated system, it systematizes the same violence and terror."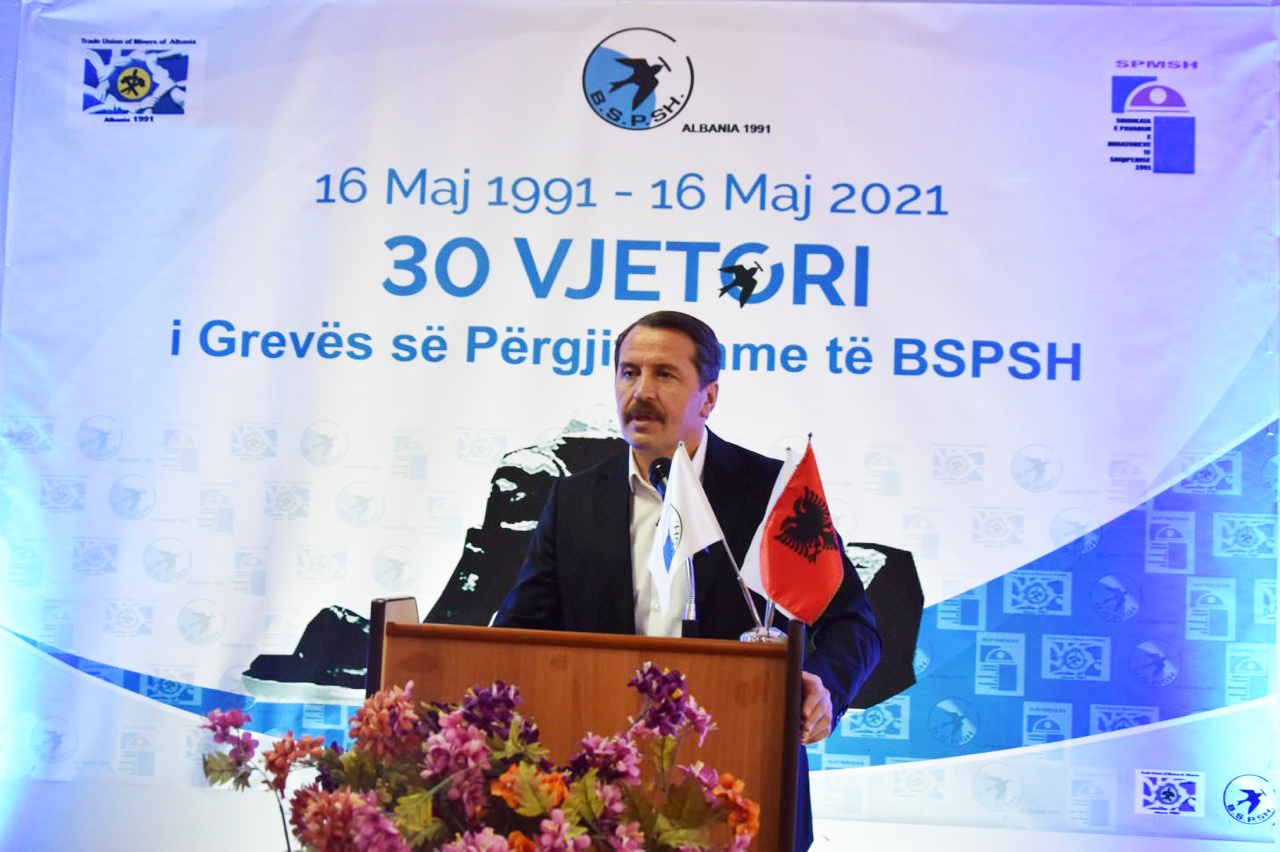 Yalçın continued his speech as follows: "All these are our common questions. I believe that we can overcome these problems with solidarity and more dialogue. I just said, Covid-19 came upon a crisis and captured the whole world, so to speak. But we all know that the system we live in is not sustainable. Covid-19 has shown this fact to a wider audience. All segments now see how wild the world order is, that the gap in income distribution gets deeper as it gets stronger, and that we live on a ground formed by the equation of 9 for 1 person and 1 for 1 person. On the other hand, the moral crisis of the system has also come to light during this process. For example, the great states saw the epidemic as an opportunity to compete with each other, rather than acting jointly to combat the pandemic ... The vaccine has become their biggest weapon ... However, we had to turn the Covid-19 crisis at an opportunity, 
• to learn from mistakes,
• questioning the existing system,
• to establish a fair and human-centered system. 
Has this opportunity been missed? No. We must further increase our solidarity against the system that wants to roll us into pessimism. 
Dear friends, dear participants 
Against this system that reduces labor to a cost element, we need to take the value of labor and laborer out of capital-centered discourse and bring it to an ontological and moral ground. Yes, labor is human honor. Sweat refers to the value that a person produces without violating other people's rights. Unfortunately, we live in a world where neoliberal discourses are torn from reality. But there is a fact that the great mass of humanity is sustaining their lives with their labor and sweat.
At this point, the task of labor organizations is to overcome the complex theories and formulas of capital and develop actions that will ensure the equity of income distribution. However, as with many things, labor movements have suffered greatly from the corrosive power of this system. Unfortunately, the global order follows exclusionary policies that trigger social fragmentation in order to weaken labor movements. Now is the time to end these policies. 
We must unite and fight for a more just and equal world. As the Memur-Sen family, we are open to any cooperation, we believe that labor has no race, ideology, religion and gender. For us, protecting the rights of the laborer means protecting the rights of all humanity. While ending my words with these feelings and thoughts, I thank you once again for inviting us on this special day. 
I love you…
Long live solidarity.
Long live the struggle of labor."