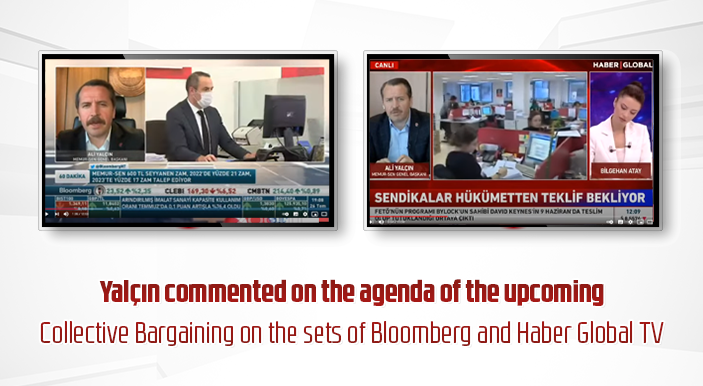 Yalçın commented on the agenda of the upcoming Collective Bargaining on the sets of Bloomberg and Haber Global TV
---
30.07.21, Friday
Following the presentation and publication of the Memur-Sen Confederation's proposals for the upcoming Collective Bargaining that will soon begin on August 2, President Ali Yalçın was invited on the sets of Bloomberg and Haber Global TV to comment on the low purchasing power of civil servants, which has been shrinking like a stone for over 18 months.
Invited to speak for the first time on the Bloomberg news channel, Ali Yalçın, President of Memur-Sen, recalled that previous Collective Bargaining negotiations had ended in disagreement. Adding that civil servants had been experiencing an unprecedented erosion of their salary levels, Yalçın also shared his fears about the inflation outlook for the coming years, urging the government to take this fact into account, in order to avoid a situation of aggravated stalling of salaries.
Yalçın said, "We have based our demands on three main pillars, namely a proportional increase, lowering of taxation and catch-up bonuses," adding, "We believe that the lowest salaries of civil servants should be raised to a minimum of 5,000 Turkish liras. The salary of a civil servant should not remain below the thresholds of malnutrition and poverty. The salary increase should be able to cover the basic needs of workers, in this sense our demands are reasonable," he said.
Yalçın, who was also a guest on the sets of Haber Global news channel, said, "Given the economic indicators, the government should sit at the negotiation table taking into account economic realities. Arguments such as fiscal discipline should not be put on the table," he said.
Yalçın added, "Definitely do not come to the negotiating table with arguments such as fiscal discipline or excessive deficit," he said.
Yalçın said the union representatives will come to the negotiating table with many other demands: "There are also areas that we would like to improve with regard to social rights. Due to the systematic disintegration of employment in the public sector, we will also express our demands regarding the repeal of the contractualization of non-civil servants, who should be given tenure as soon as possible," he concluded.