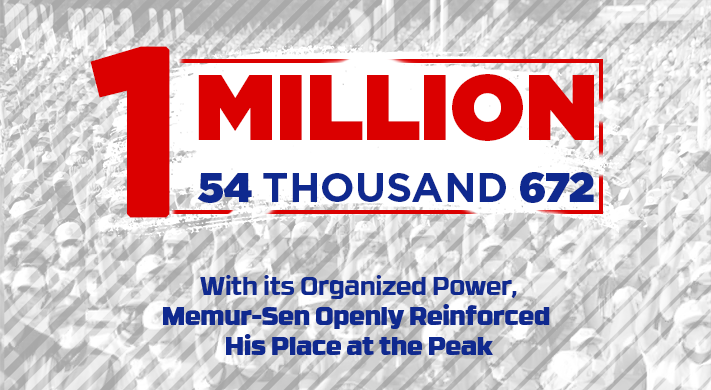 With its Organized Power, Memur-Sen Openly Reinforced His Place at the Peak
---
05.06.22, Sunday
Turkey's largest labor organization Memur-Sen, the address of stability in authority, reputation in unionism, the center of gains, has clinched its position at the top by reaching 1 Million 54 thousand 672 members with the participation of more than 50 thousand new members. Thus, since 2009, it has unshakably demonstrated that the public servants, both as the authorized confederation and with their authorized unions in all branches of service, are the rightful, strong, honorable and loud voice.
The point reached today is, of course, the result of hard work, effort and solidarity.
 Therefore, as Memur-Sen family, we; From collective bargaining to collective agreements, from the Institution's Administrative Board to the Public Personnel Advisory Board, we have gained many achievements regarding human dignity, humane living, and a working life compatible with a respectable business approach. In this context, we have achieved 802 gains from the Public Personnel Advisory Board to the Institutional Administrative Board meetings, including 350 gains at the collective bargaining desk, both by Memur-Sen as the authorized confederation, and by our authorized unions in all of its service branches.
 Memur-Sen has been blessed with this blessed struggle we waged against public servants to add the most appropriate financial and social rights to live humanely, working conditions suitable for a respectable business understanding, and the opportunity to continue living freely to the list of achievements of public servants.
 There is no room for complacency. In an environment where income distribution is deteriorating and the crisis is getting deeper day by day, we will continue to work with all our strength to fight for the right of labor, to increase the purchasing power of fixed income and to ensure fair distribution.
 Because Memur-Sen;
 It is a strong organization shaped by moral stance and principles.
 It is a big family that considers labor as right and justice, puts people in the center, deals with the problems of humanity and at this point develops action against problems with its organized power.
 Salute to the pioneers of labor, who increased the value of labor and laborer and brought Memur-Sen to a record number of 1 million 54 thousand 672 members.
 On this occasion…
 With the understanding of responsible unionism, we are working day and night to increase the rights of labor, the reward of hard work, the law of public servants, and the hopes of retired public servants for the future, to the leaders and administrations of our unions who keep Memur-Sen at the summit, our provincial and district representatives, our branch presidents, and our employees. I would like to express my gratitude to our members for whom we are honored to fight.