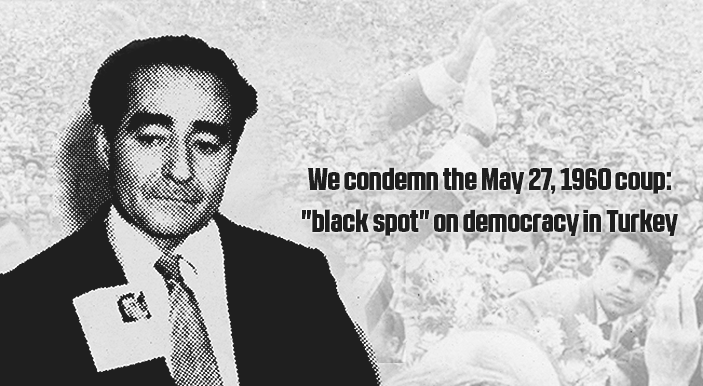 We condemn the May 27, 1960 coup: "black spot" on democracy in Turkey
---
28.05.21, Friday
On the 61st anniversary of the May 27, 1960 coup, we respectfully commemorate and wish divine mercy to Adnan Menderes, Hasan Polatkan and Fatin Rüştü Zorlu who lost their lives as a result of this tragic coup.
On May 27, 1960, a military coup put an end to the first pluralist and democratic experience in Turkey. A large number of representatives of the ruling Democratic Party, were trialed and sentenced to capital punishment, after a caricatural trial, Adnan Mederes and two of his ministers, Fatin Rüştü Zorlu and Hasan Polatkan, were sentenced to death and executed by hanging.
The establishment of the Democratic Party in 1946 had put an end to the one-party system that had been established after the founding of the Republic in 1923. In 1950, the Democratic Party won the general election by a large margin, forcing the Republicans out of power and governing with a solid majority for ten years.
This democratic decade, which softened the most extreme measures of Kemalist secularism, revealed the deep divisions in Turkish society between the Kemalist elite, who felt themselves to be the victims of this political change, and the citizens of more moderate standing.
The relationship between the government and the army gradually worsened, but it was a socio-political crisis at the end of the 1950s that provided the pretext for an intervention, initiated by low-ranking soldiers but nevertheless controlled by the military hierarchy.
The 1961 Constitution, with the establishment of the National Security Council and the appointment of a general as head of state, was the starting point of military dictatorship, process that would make the army a major player in the Turkish political system.
Ismet Inönü, who had succeeded Atatürk in 1938 and led the country until 1950, would return to power as Prime Minister, while the head of the military junta, who had led the May 27 coup, would serve as President of the Republic until 1966.
On this occasion, more than sixty years later, underlining once again our unconditional commitment to democracy, we condemn the Coup of May 27, 1960 and hope that this kind of tragedy will never be repeated.