Thousands of people gathered in Şanlıurfa to celebrate May Day
---
02.05.19, Thursday
Turkey's largest labour movement Memur-Sen, celebrated May Day in Şanlıurfa together with the Confederation of Workers Trade Unions of Hak-iş. At the rally, labour, brotherhood, solidarity and unity message were given to the whole world.
Thousands of people gathered in Şanlıurfa on May 1 to mark International Workers' Day. Organized jointly by the Memur-Sen Confederation and Hak-iş Confederation, the commemorative festivities of the May 1st International Labour Day took place in Şanlıurfa. Day of international solidarity of the world of work, May 1, 2019 was the opportunity to demonstrate against unemployment, income inequality and appeal for the improvement of the living conditions of workers, lower taxes and guarantee the right to decent and sustainable work.
Drawing attention to the unequal distribution of income, President of the Memur-Sen Confederation, Ali Yalçin, said: "The richest 26 now have as much money as half of humanity! Neoliberalism is fundamentally anti-democratic, it refutes the ideal of sovereignty of the people, attacks political and social rights, endangers the foundations of democracy and destroys the power and economic rights of workers. We are confronted with an aggressive neoliberalism that turns the planet into a fire to achieve the new world order. And that's precisely what Memur-Sen wants to change, "he said.
Trade unions called for lifting restrictions on trade union rights and freedoms, and for improving income through lower taxes and a reasonable increase in wages and pensions. In addition, they reiterated their strong commitment to strengthening social cohesion, while emphasizing human capital and democracy.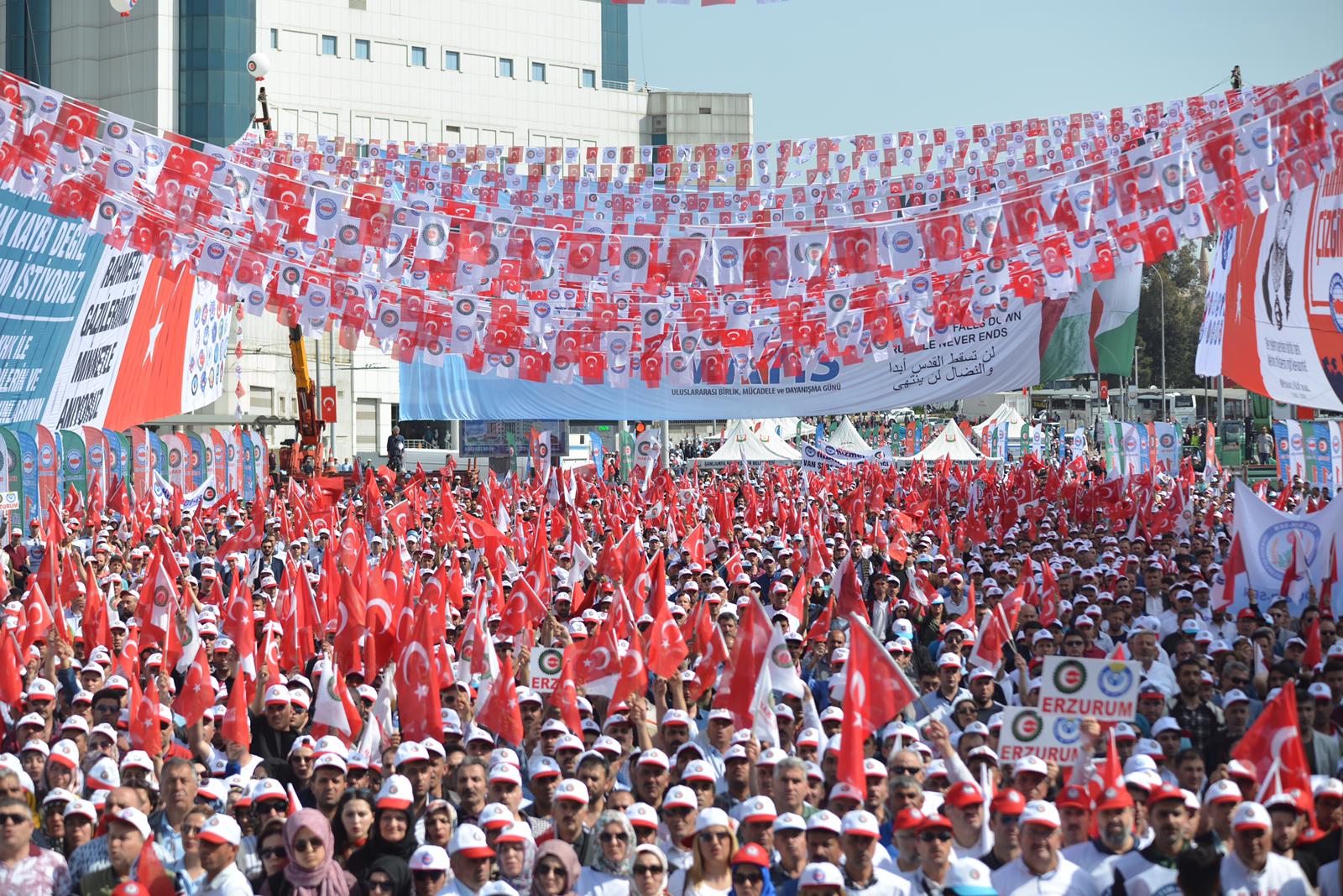 Banners carried by protestors read, "Justice", "Labour", "," Peace", "Freedom", "Solidarity"," Equality" "Unity". Participants of International Trade Unionism and Social Policy Training Program were also present at the rally.