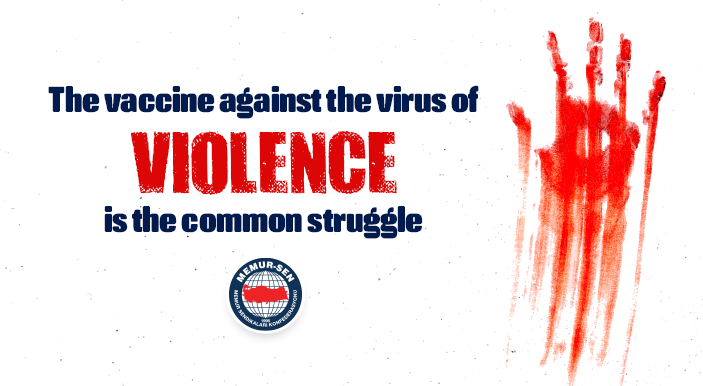 The vaccine against the virus of violence is the common struggle
---
25.11.20, Wednesday
Violence has been one of the fundamental problems of humanity since immemorial time. Violence is a malicious phenomenon that threatens all of society, especially children, the elderly and women, who cannot resist this end. Violence, without distinction of religion, nation, class, ethnicity, sect is a common problem of humanity. Faced with such a widespread and destructive problem, it is necessary to develop a common global and multifaceted struggle.
Violence inflicted by the strong on the weak and violating human dignity sometimes has destructive repercussions that violate the right to life. Women and children are the hardest hit by wars, the difficult conditions in refugee camps, unfair wages, inequalities in the working environment, non-compliance with occupational health and safety rules, social degeneration, poverty and domestic violence.
Globally, 60 million asylum seekers / refugees live in difficult conditions due to laws and practices that disregard human dignity. Unfortunately, women and children are once again the first victims of violence. The life of immigrant women in Turkey, the protection of the dignity of work, is a humanitarian mission and above all political considerations. We must not forget that hostile anti-immigrant speeches and actions inflict violence on refugee women and children.
The importance of trade union organizations in the development and implementation of policies against violence against women is indisputable. Trade unions are essential institutions and important stakeholders in identifying professional groups at high risk in terms of violence, carrying out awareness-raising studies, including this issue in collective bargaining, monitoring and evaluating practices and preventing violence in the workplace. with regard to women in business life.
The low rate of participation of women in decision-making mechanisms and the increase of obstacles in their professional careers continue in both the public and private sectors. The maternity pay gap is one of the issues that needs to be addressed in our country as well as around the world. It is important and necessary to protect the rights of women to motherhood and to develop policies that harmonize work and family life for a fair career path.
Violence in the workplace is a health and safety problem that particularly affects women. Psychological harassment (mobbing) at work against women is a form of violence that results in a low autonomy in decision-making and job insecurity. We recall the need to apply an additional penalty against psychological harassment at work against women and reiterate our requests to open daycare centers in the workplace, to increase maternity leave and to impose more severe sanctions for moral harassment against women.
In addition to its devastating effect on the global economic system, the Covid-19 pandemic is a factor that increases violence in professional life. The pandemic, which is a new factor in the dynamics of professional life, increases the problem of unemployment on the one hand, and threatens the safety at work of public officials on the other hand. The spread of violence in working life by the pandemic continues to threaten all employees, especially healthcare workers, whose workload is increasing in this process. On this occasion, we condemn the attacks on all workers, especially healthcare workers, who are leading the fight against the epidemic in our country as well as around the world, and we call on the public will to take the necessary measures.
During the distance learning process, we have also witnessed hate speech and discrimination against veiled women. We find it useful to reiterate that we have opposed such approaches at any level. Considering that 70% of Islamophobic attacks in France last year were against women, it is clear that we need to fight Islamophobia with violence against women. We believe in the need for the globalization of our struggle as trade union organizations.
On the occasion of the International Day against Violence against Women, November 25, as the Women's Commissions of Memur-Sen, we recommend:
To be against violence against women in order to defend the right to life. To oppose violence against women is to oppose violence against children, violence against the elderly, violence against adults. The fight against the virus of violence, which can be passed from generation to generation by infecting minds, must be dealt with holistically and carried out with a common struggle.
It is not possible to reduce violence in social life without ending violence in professional life. In this regard, the effectiveness of social dialogue mechanisms should be increased in order to eliminate violence and harassment in the workplace. The necessary regulations in law should be urgently established for public officials who are victims of violence while providing public services.
On November 25, the international day for the elimination of violence against women, we salute all workers, especially women who have been victims of violence.
We believe that it is possible to live in a new world where capitalism does not use women as cheap labor. We want to build a better world where each person has their place and where they can lead a life of dignity and participate, according to their capacities, in social life and collective progress.