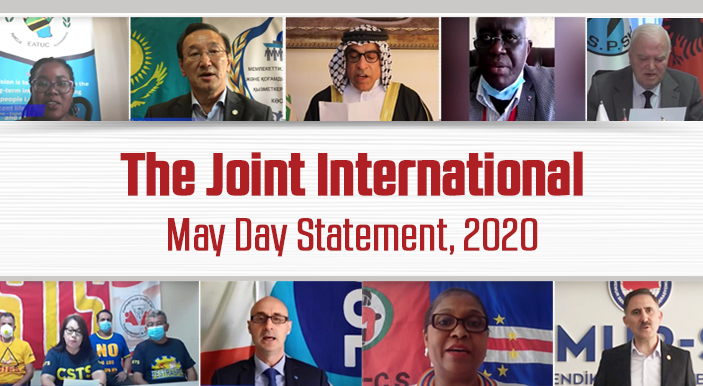 The Joint International May Day Statement, 2020
---
02.05.20, Saturday
The threat of COVID-19 will come to an end; Solidarity will triumph, Humanity will win!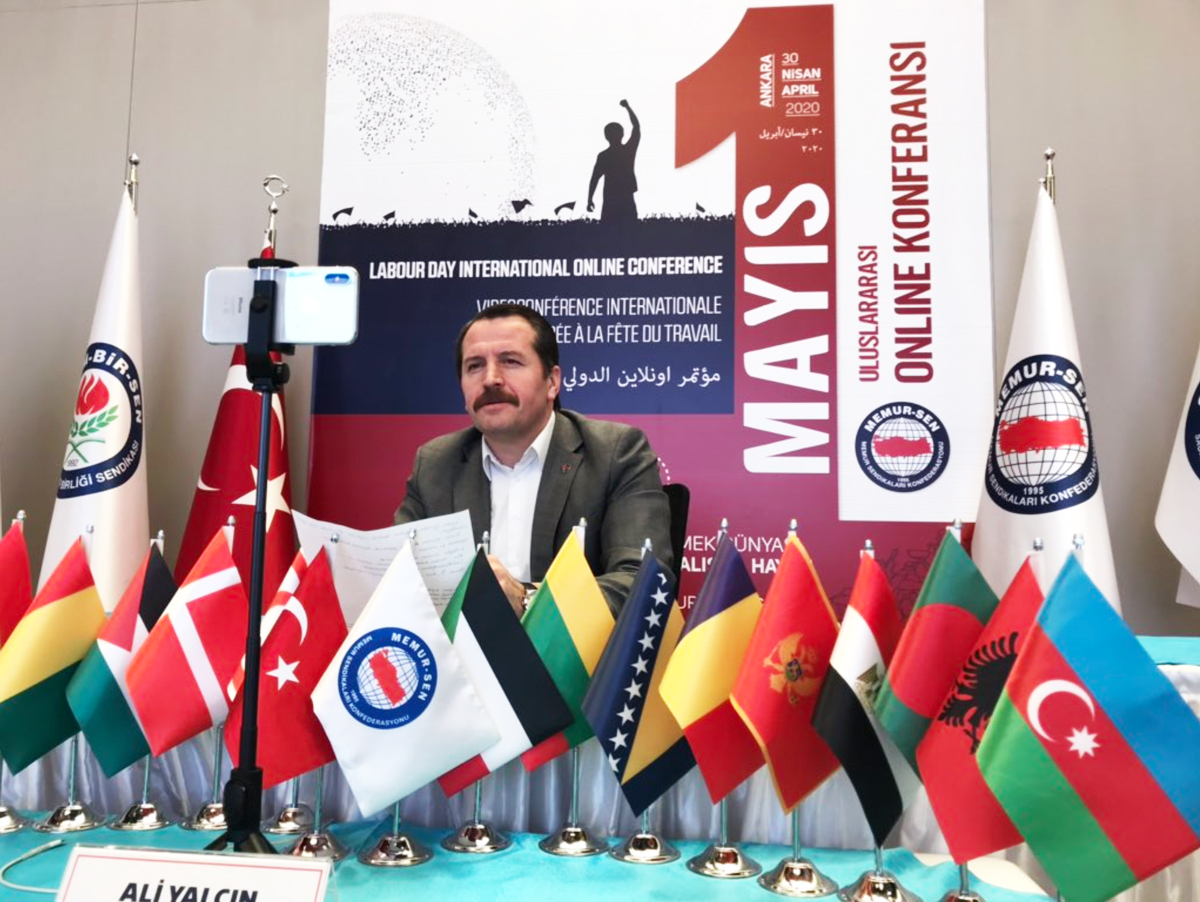 The world is living in a time when social progress, peace and international solidarity embodied by the spirit of May Day is more than ever necessary to overcome this painful ordeal caused by the novel coronavirus.
In order to stem the spread of COVID-19, this Labour Day and symbol of the achievements of past struggles that we commemorate every year in public squares, will be celebrated this year with an unprecedented level of universal solidarity from our homes.
Labour, at the source of scientific, technical, industrial, social and economic progress, allows us, however, to proclaim our ideals, demands, common goals through virtual squares.
It is well known that "there is strength in numbers". As trade union movements around the world, we raise our voices in alarm and rally around the call for stronger cooperation and united solidarity. If we are to achieve significant and lasting positive change, it is together that we will change the systems that contribute to perpetuating inequalities.
As trade union movements around the world, we believe, in this solemn moment, that a new world based on the ideals of freedom, peace, social justice and human dignity is possible. A world in which every person can claim his or her fundamental rights.
As trade union movements around the world, we consider it a human and moral duty to fight against inequality and poverty and to advocate for real and lasting changes for a fairer world where living in dignity and having prospects for the future is not a privilege but a right for all, not only for our members and our countries.
Moreover, we are convinced that the solution to the crises generated by the neo-liberal capitalist world system can only come from trade union representatives.
We utterly reject neoliberal economic theories and conceptions that reduce human beings to the state of homo œconomicus and work to a calculation of costs! More explicitly, capitalism, in its neo-liberal form, tends to reduce the human being to an object of social engineering, a stealthy technology of human devitalization.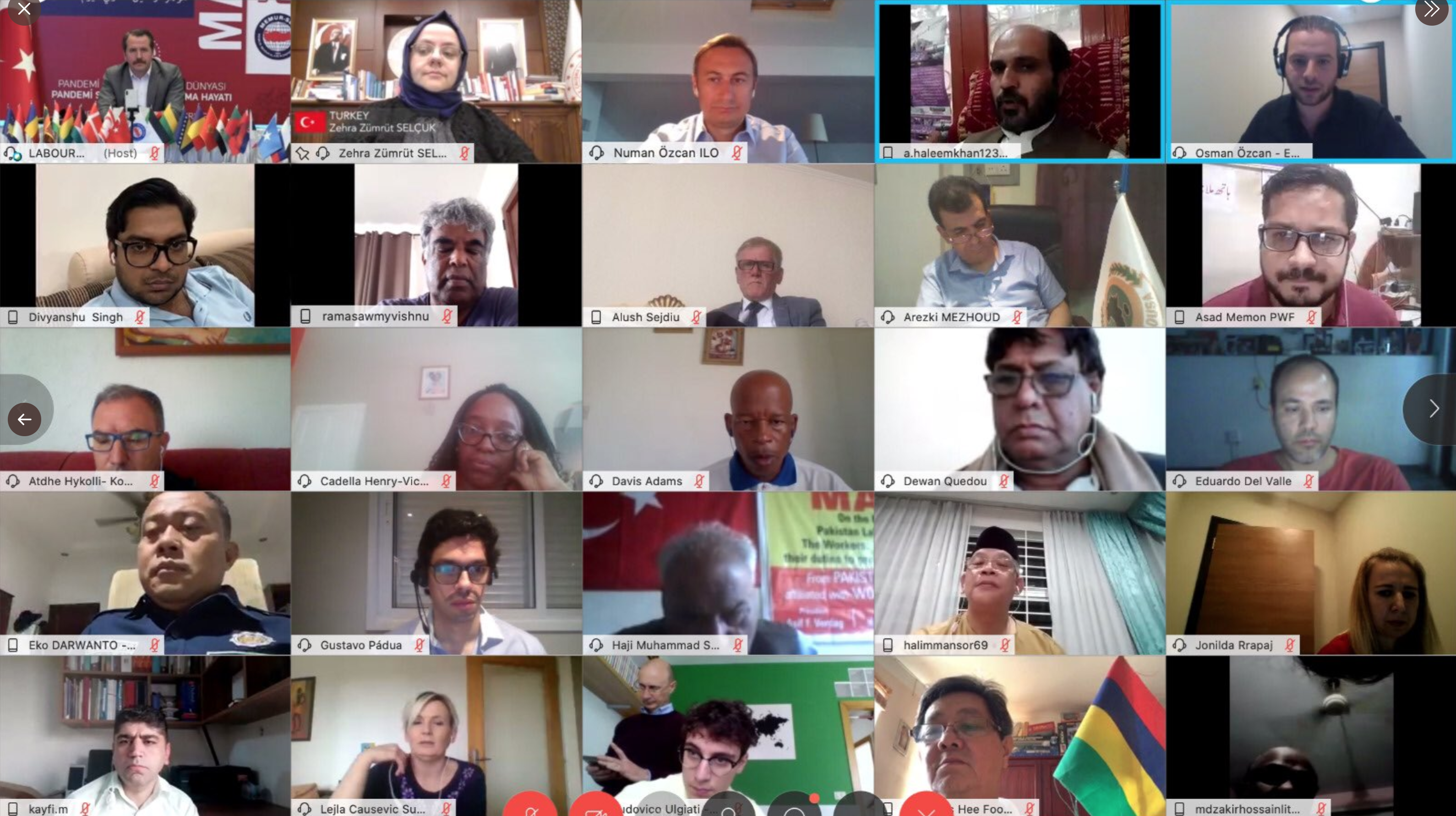 As trade union movements around the world, we consider universal social protection, job safety, the right to fair wages, paid holidays and guarantees of personal progress as indispensable to working life.
As trade union movements around the world, we reiterate our commitment against the privatisation of basic services and demand in particular the right to free health care for all.
As trade union movements around the world, we also recall that the human being is the only factor of differentiation, innovation and sustainable success in the world of work. Although machines offer systems the ability to learn, they are not capable of empathy, altruism or sacrifice, and that is why the individual must remain at the centre of companies' concerns and strategies.  
Although the COVID-19 pandemic represents a major challenge for the world in general and the world of work in particular, we place an unshakeable confidence in the future. We salute the millions of workers and public servants, who are at the frontline of struggle, in public healthcare systems around the world.
Solidarity will triumph, and Humanity will win!
Together, we can defeat the pandemic!  
Together, we will defeat this virus and rebuild a fairer world!
Long live the resistance against imperialism!
Long live hope!
Long live work, human dignity and social justice!
Long live the spirit of May Day!
Long live workers' solidarity!