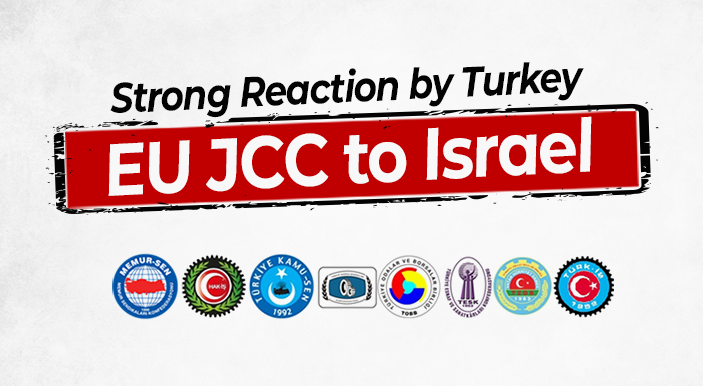 Strong Reaction by Turkey-EU JCC to Israel
---
12.05.21, Wednesday
We are unions and professional organizations representing workers, farmers, employers, civil servants, tradesmen, traders, industrialists and producers in Turkey. 
The unjust and unlawful attacks carried out by the Israeli security forces against the Gaza and Masjid al-Aqsa and the Palestinians who worship there, the attacks in which many innocent people, including children, lost their lives, and the forced removal of the settlements from Palestinians in spite of all the calls of the international community, is inhumane and a crime against humanity. 
We strongly condemn aggressive actions against the civilian and vulnerable Palestinian people; these attacks must end immediately. Necessary measures should be taken to prevent Israeli racist groups from entering the Harem. 
Palestinian civilians should be taken under international protection within the framework of UN General Assembly resolutions. 
Freedom of worship should be ensured for Palestinian civilians. 
The status of the Haram esh-Sharif should be preserved. 
The whole world should see that Israel is responsible for the occupation and violence in Palestine. 
Israel should be held responsible for these actions in the international arena. 
Everyone should say stop to this cruelty and reckless disregard of the law. 
Not to object to it and not to stand against it is to be a partner in this plague. 
HAK-İŞ Trade Union Confederation (HAK-İŞ) 
Confederation of Public Servants Trade Unions (MEMUR-SEN) 
Turkey Tradesmen and Artisans Confederation (TESK) 
Confederation of Turkish Trade Unions (TÜRK-İŞ) 
Confederation of Employer Associations of Turkey (TİSK) 
Confederation of Civil Servants Trade Union of Turkey (Turkey KAMU-SEN) 
The Turkish Union of Chambers and Commodity Exchanges of Turkey (TOBB) 
The Union of Turkish Agricultural Chambers (TZOB)