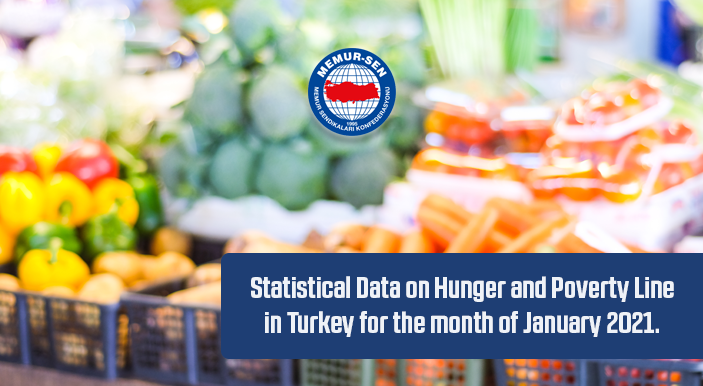 Statistical Data on Hunger and Poverty Line in Turkey for the month of January 2021
---
13.02.21, Saturday
Memur-sen Confederation is regularly conducting a research on Hunger-Poverty Line in Turkey, According to data shown in that research, the hunger rate for a family composed of 4 people is estimated to be 2.639,7 Lira while the poverty line is 7.576,1 Lira.
In January 2021, Food items have increased by almost 1.7% higher than in December 2020.
Turkey has registered a remarkable increase in food prices, 26.77% on Mandarin, 21.29% on cucumber, 18.55% on banana pepper and 14.6% on Yogurt. However, Turkey has registered reduction in the price of some other food items, such as; 45.79% on cucumber, 21.17% on Tomatoes, 17.6% on spinach and 11.72% on courgette. 
In January 2021, Heating bills have increased to almost 1.04% higher than in December 2020, electric bills have increased by 6.18% and housing prices have increased by 1.28%. 
As for January 2021 statistics, clothes prices fell by almost 1.8% compared to month of December 2020. Clothes prices went through remarkable changes, 13.91% increase in the price of pajamas, 4.26% increase in the price of belts and 2.99% increase in the price of shoe repairing. In the addition to this, the prices for truck suits rose by 14.48, the price for jerseys rose by 10.46% and the price for sweaters rose by 8.72%.  
Cosmetic and care prices have increased by 2.58%. Perfume prices have increased by 10.61% and toilet paper rose by 2.41%.
Water bills have increased by 7.16%. 
Prices for Telecommunication and health Services have increased.
Telecommunication prices have increased by 1.95%, mobile phones' bills increased by 14.28% and the price for PTT parcels delivery has increased by almost 6.9%.
Health services' bills have increased by 3.23 %, the value per bed (in hospitals) increased by 9.7% and drug prices rose by 3.03%.
Transportation prices have increased by almost 4.07%. Flight tickets prices increased by 9.24%, driving courses cost rose by 9.59%. However, Metro tariffs fell by 1.54% and car rental charges fell by 0.34%.
Education and Culture materials have increased by almost 1.30%. Stationery prices rose by 12.65%, toys prices rose by 7.48%. However, university contribution margin has slightly fell by 2.52% and pilgrimage fees fell by 2.43%.