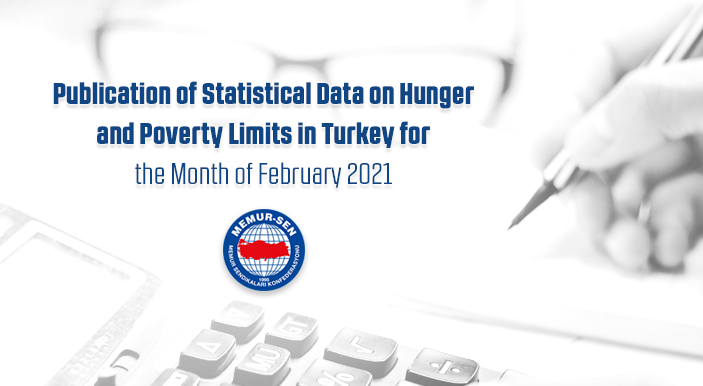 Publication of Statistical Data on Hunger and Poverty Limits in Turkey for the Month of February 2021
---
16.03.21, Tuesday
The Memur-sen Confederation regularly conducts research on the limits of hunger and poverty in Turkey. According to the data of the research, the threshold of hunger for a family of 4 people is estimated at 2,680.4 Turkish Lira while the poverty is 7,640.3 Turkish Lira.
Turkey has recorded a considerable increase in food prices, for example an increase of 26.96% for bell pepper, 19.92% for pumpkin, 19.47 for cucumber, 16.06% for eggplant and 15.06 for the lemon. On the other hand, some other food products recorded a decrease in price, cauliflower -14.11%, spinach -10.42%, eggs -8.92%, red cabbage -8.38% and onion -7 , 82%. In February 2021, the average price increase for basic food products is 1.5% compared to January 2021.
In terms of household energy bills, heating bills increased by nearly 0.09% compared to January 2021.
Regarding the prices of cleaning products, hygiene products and personal care, the average decrease is 2.46%.
On the other hand, still according to the statistics of February 2021, the price of clothes has fallen by nearly 0.59% compared to January 2021.
The prices of telecommunications services decreased by an average of 1.37%, the price of delivery of PTT parcels decreased by almost 13.39%.
Bills for health services rose 2.46% and drug prices rose 6.09% in February 2021.
The prices of transport increased by almost 0.74% however the price of plane tickets decreased by 4.13%.
Educational and cultural material increased by nearly 0.65%. The price of stationery rose 4.18% and the price of console games rose 3.22%.