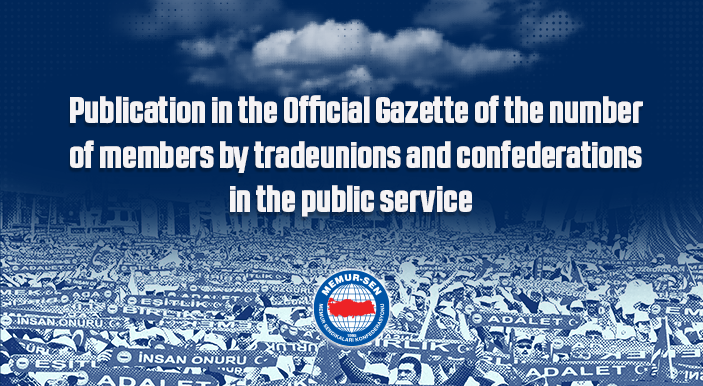 Publication in the Official Gazette of the number of members by trade unions and confederations in the public service
---
05.07.21, Monday
With the publication of the number of members of public service unions and confederations in the Official Gazette, in accordance with the Law No. 4688 on Public Service Unions and Collective Bargaining, Memur-Sen confirms its position as the largest confederation in Turkey.
It is important to note that Memur-Sen confirms its leading position with 1 million 4 thousand 152 members.
Despite the pandemic and the limitations that have changed the ordinary course of life, Memur-Sen and its affiliated trade unions have demonstrated their ability to create the conditions for more democratic and free labor relations.
Once again, Memur-Sen has been recognized as the largest confederation of civil servants in Turkey.
Below is the list of Memur-Sen affiliated unions and their membership numbers:
- Eğitim-Bir-Sen (Teachers' Union): 427,386 members
- Sağlık-Sen (Union of Health and Social Services Workers): 245,850 members
- Diyanet-Sen (Union of Religious Leaders and Religious Foundations): 83,587 members
- Büro Memur-Sen (Union of Public Sector Office Employees): 75.671 members
- Bem-Bir-Sen (Union of Local Government and Municipal Employees): 58.635 members
- Toç Bir-Sen (Union of Agriculture and Forestry Officials): 45.344 members
- Bayındır Memur-Sen (Union of Public Works, Roads, Environment, Construction, Emergency and Disaster Management, Land Registry and Cadastre Employees): 20.010 members
- Enerji Bir-Sen (Union of Energy, Industry and Mining Services Employees): 17,140 members
- Birlik Haber-Sen (Union of Communicatıon and Information Officers): 14.224 members
- Ulaştırma Memur-Sen | (Union of Public Transport Employees): 10,306 members
- Kültür Memur-Sen (Culture and Tourism Employees Union): 5,999 members
In this regard, we would like to express our gratitude to the officials, who add strength to our strength by their trust and show a determined organizational attitude towards their members. On this occasion, we express once again that we will continue our efforts to win the appreciation and favor of public servants.