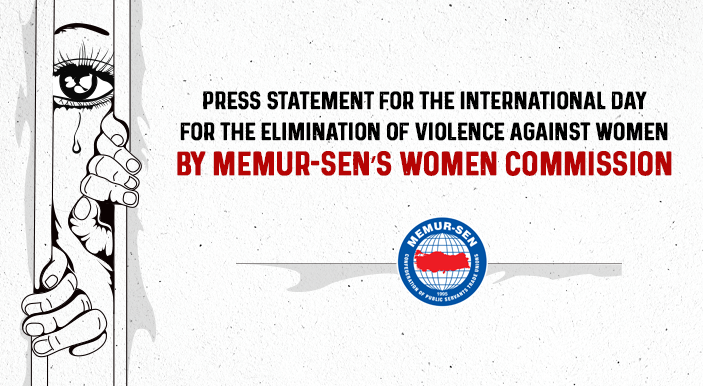 Press Statement for the International Day for the Elimination of Violence Against Women by Memur-Sen's Women Commission
---
25.11.19, Monday
The United Nations General Assembly has designated November 25 as the International Day for the Elimination of Violence Against Women (Resolution 54/134). On the occasion of the International Day for the Elimination of Violence Against Women, Memur-Sen's Women Commission released a press statement to commemorate and to raise awareness of the fact that women around the world are subject to rape, domestic violence and other forms of violence.
Today, violence, regardless of race, nation, class, ethnicity or religion is a common problem of all humanity. Especially since it is extremely sophisticated, the search for a global solution continues in parallel. Despite all the measures taken, violence, which constitutes a violation of human rights, unfortunately continues to exist in all areas of life. Violence is a serious violation of fundamental rights. Its consequences on the physical, sexual and mental health are multiple. Violence has also negative effects on the overall well-being of women and prevents them from fully participating in social life. The harmful consequences of violence affect not only women, but their families, communities and countries. Research evidence suggests that domestic violence, tragedies in immigrant camps, wars, unfair wage distribution, and poverty affect women and children more.
We believe that in order to prevent violence against women, we must develop sustainable solutions based on human dignity. In addition to policy management for the eradication of violence in all segments of society and in all areas of social life, preventive measures will need to be further developed to make violence against women socially unacceptable and to involve men in the fight against violence against women.
On the occasion of the International Day for the Elimination of Violence Against Women, 25 November, we wish to affirm that violence is a devastating violation of human dignity. We believe that trade unions play a leading role in the fight against violence against women in the workplace. We are convinced of the commitment of trade unions to a sustainable fight against workplace violence in many ways, from the adoption of an action plan to prevention activities against violence against women. In this context, we want to invoke some points that we have addressed and followed during the collective bargaining process.
The absence of legal provisions in the reconciliation of work and family life is a major disadvantage for women who continue to perform a large part of the household chores as well as the education of children. We have called for the necessary measures to ensure the establishment of accessible and flexible childcare facilities and support, and the increase of maternity leave to promote a better reconciliation of work and family life.
Violence, which regarded as an occupational health and safety problem in working life, can be more destructive for women in terms of its consequences. Mobbing limits women's participation in high-level decision making process as well as the increase in women's access to employment. In this context, in the 5th Term Collective Agreement, we demanded that it is highly necessary to apply harsher punishment to the mobbing applied to female public officials. Therefore, we reiterate that we are fully committed to this policy and we will continue to defend the women in working life.
As Turkey's largest labour organization, we are working for the elimination of all forms of violence against women in all levels of social life. Therefore, it is also vital for the public and civil society to carry out joint activities and to make women more visible through their struggle and efforts at workplace instead of the understanding that makes violence normalized, the commodification of women's bodies.
The protection of migrant women is another important point that we need to underline. Today, as a leading country by hosting the largest number of refugees worldwide, we believe that the protection of the lives, dignity and labour of the immigrant women is above all political discourses. It should be kept in mind that any discourse and action that feeds the hostility of migrants will cause the violence of refugee women and girls.
On the occasion of November 25, the International Day for the Elimination of Violence Against Women, as Memur-Sen's Women's Commission, we did not forget the brutal murder of Özgecan Aslan, Emine Bulut, Emani, Aybüke Yalçın and many other women. We declare that we share sorrow of the mothers who have been staging a sit-in protest in order to raise their voice to save their children from the hands of the terror group, and all women prisoners in Myanmar, East Turkistan camps and Syrian prisons and we stand in solidarity with them.
We believe in that it is possible to live in a new world where capitalism doesn't use women as a cheap labour force in the exploitation of labour, women are not sacrificed to human trafficking in the wars produced by imperialism. We also believe in that a new world is possible where women are protected by their rights in social life and equality in accessing opportunities.