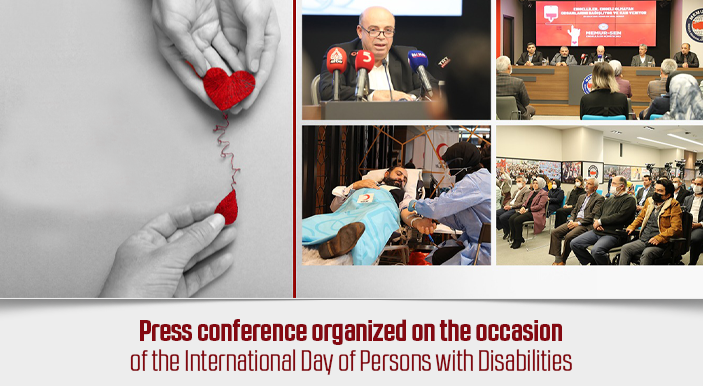 Press conference organized on the occasion of the International Day of Persons with Disabilities
---
20.12.21, Monday
In the press conference organized by Memur-Sen Commission for People with Disabilities on the occasion of the International Day of Persons with Disabilities, which aims to promote the rights and welfare of people with disabilities in all spheres of society and development and to increase awareness of their special situation in all aspects of political, social, economic and cultural life, Eşref Karaaslan, its chairman, mentioned the importance of appropriate legislation to end discrimination that hinders the social participation of people with disabilities.
Stating that 15 percent of the world's population consists of people with disabilities, including 7 percent of Turkey's population according to 2011 data, Eşref Karaaslan continued, "While the activity rate in Turkey is 50.3 percent, for people with disabilities this rate is 22 percent. In the public sector, the number of public employees with disabilities is about 60,000 people. By acting through an appropriate legislative reform, it is possible to remove all the barriers to the social participation of people with disabilities, especially in the social, cultural, economic and professional fields. The commitment to the realization of the rights of people with disabilities is not only a matter of justice but an investment in our common future," he said.
He added: "Out of the 60,000 disabled civil servants working in Turkey, 40,000 are members of our confederation. We are convinced of the need to strengthen the access to vocational training as well as training related to the evolution of employment of people with disabilities, the inclusion of disability makes the systems more flexible and therefore better able to adapt to complex situations, targeting the most marginalized people before all others".