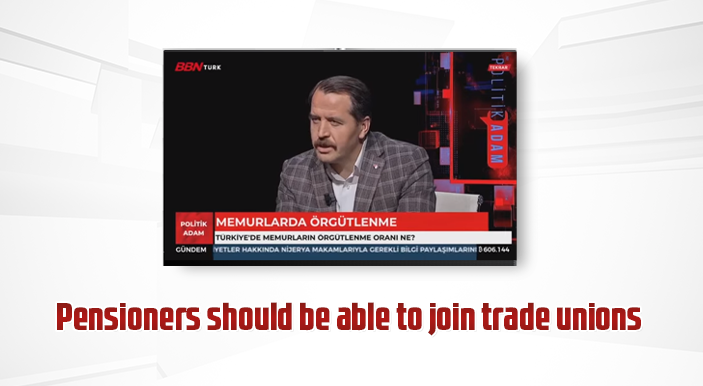 Pensioners should be able to join trade unions
---
22.10.21, Friday
Memur-Sen President Ali Yalçın was a guest on BBN Türk TV to share his views on the unionization of pensioners: "Memur-Sen wants to launch a structuring project to confederate the union activity of pensioners.
Responding to questions from journalists, Memur-Sen President Ali Yalçın said, "Our country has more than two and a half million retired civil servants who do not have the opportunity to join a trade union, we call on the government to ensure the continuity of membership and militancy of members once they retire," he stressed.
Stating that "even in retirement we can act", Ali Yalçin added: "Retirees must be able to intervene in their own name on social issues that concern them directly as social protection, the level of pensions, the assumption of responsibility for dependence, lifestyles in retirement, dignity, intergenerational solidarity, etc. ... ".
For a militancy that is just as legitimate and rich as the one that took place when they were employed, retirees must be allowed to organize themselves in an autonomous way and to develop a trade unionism with the objective of satisfying their demands.