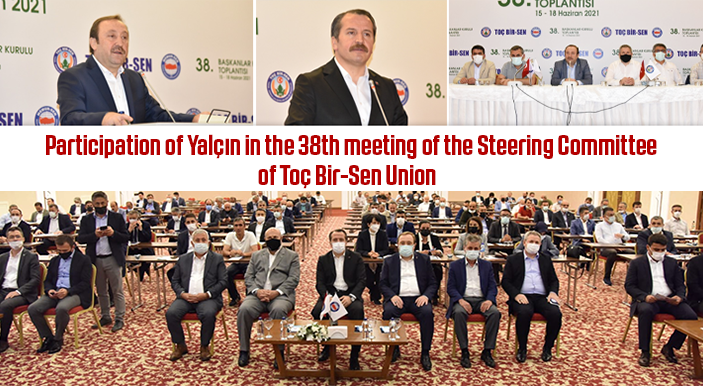 Participation of Yalçın in the 38th meeting of the Steering Committee of Toç Bir-Sen Union
---
21.06.21, Monday
The 38th Steering Committee Meeting of Toç Bir-Sen (Agriculture and Forestry Officers Union), whose agenda was dedicated to the future collective negotiations that will start at the beginning of August this year, was held in Kızılcahamam, Ankara province.
In his opening speech, Ali Yalçın, president of Memur-Sen, stressed that, "Since its establishment, the Toç Bir-Sen Union, a true moral force, has been fighting relentlessly for the rights of public employees in charge of agriculture. ", he said.
Yalçın also remarked that: "Despite the difficult period related to the pandemic, from the confinement to the cohabitation with Covid-19 at work, Toç Bir-Sen Union has never stopped fighting, carrying out actions aimed at empowering the workers with more wide-angle and adaptable orientations according to the field. "He added.
While praising Toç Bir-Sen's union leaders, Yalçın commended the entire organization for its dynamic resilience, which despite the pandemic period managed to increase its membership from 45,000 to 50,000 members: "Ignoring hardships and barriers, Toç Bir-Sen, our Agriculture and Forestry Workers' Union, has lost none of its courage and determination. "He concluded.
Alongside the union branch heads and union leaders of Toç Bir-Sen gathered to help define a negotiation agenda; also present for the occasion were Toç Bir-Sen President Hüseyin Öztürk, Memur-Sen Vice President Hacı Bayram Tonbul, Chamber of Forest Engineers President Hasan Türkyılmaz and Öz Orman-İş Secretary General Ali Bilgin.