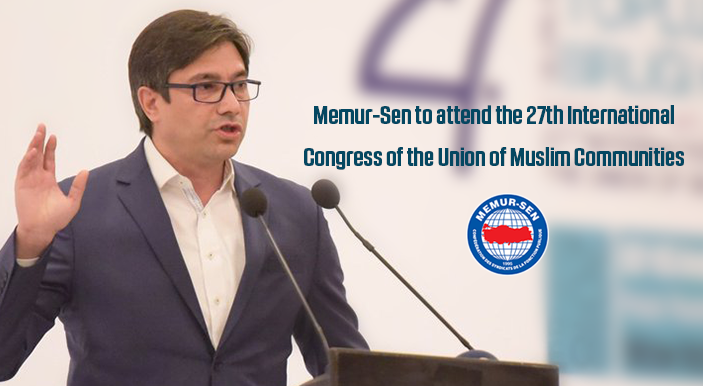 Memur-Sen to attend the 27th International Congress of the Union of Muslim Communities
---
05.12.18, Wednesday
The 27th International Congress of the Union of Muslim Communities organized by Economic and Social Research Centre (ESAM) brought together the representatives of the Islamic World in İstanbul, Turkey on 2nd December, 2018.
Memur-Sen Vice-President Levent Uslu attended to the 27th International Congress of the Union of Muslim Communities which organized by ESAM on 2nd December 2018 in 2018. The international congress which brings representatives of non-governmental institutions and leaders of Islamic communities this year organized under the theme of "The New Era and the Islamic Union with Changes and Transformations." The Congress has dealt with in different sessions the global crises threatening the future of the humanity, causes of respective crises, impacts of the crises in Islamic world and solution proposals for solving existing crises.
Vice-President Levent Uslu delivered his speech at the opening session of the congress. Uslu highlighted the importance and contribution of the congress to the existing global crises and its solutions through cooperation. "We, as Memur-Sen" are delighted to be part of this crucial congress. Especially in the period of imperialism, we all know that this geography has been subjected to serious attacks and therefore the change took place outside of our own will. That's the truth. Facing reality is the biggest change. In other words, it is not a change from the outside, but even a change from the inside." he said.
The congress later ended up with the Final Declaration in which the existing global crises, causes of existing crises and solution proposals towards crises were discussed.