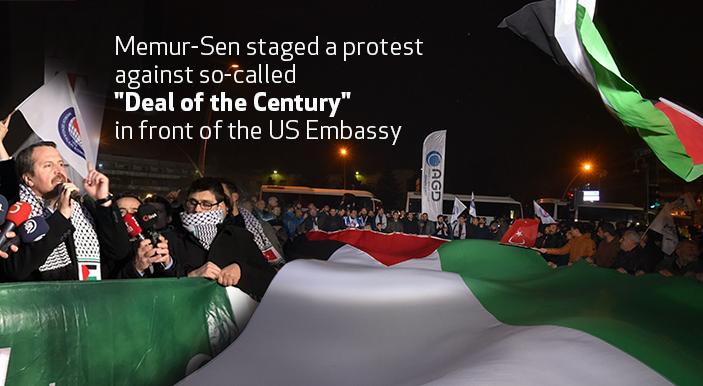 Memur-Sen staged a protest against so-called "Deal of the Century" in front of the US Embassy
---
30.01.20, Thursday
Memur-Sen staged a protest against so-called "Deal of the Century" announced by U.S. President Donald Trump, on January 28, 2020 in Ankara and İstanbul Turkey.
Memur-Sen and other prominent NGO's in Turkey on Tuesday night rallied outside the US embassy in the Turkish capital Ankara in protest at the US president's announcement of his alleged peace plan, which is informally known as "the deal of the century."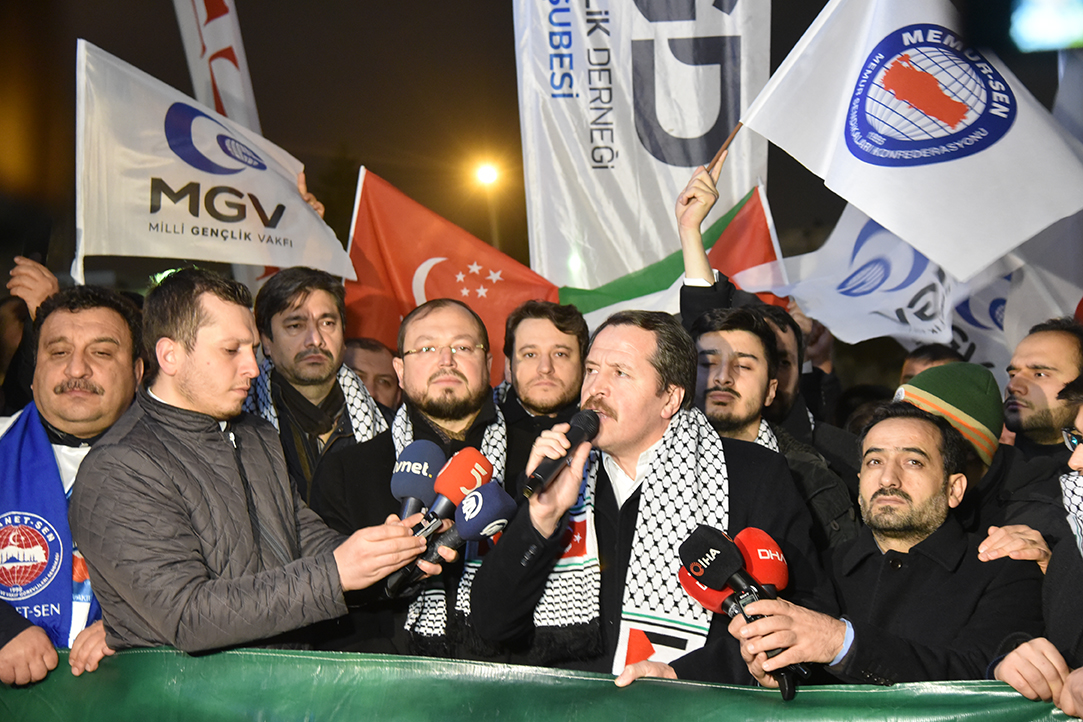 "We will always stand by the brotherly people of Palestine. We will continue to work for an independent Palestine within Palestinian lands," Ali Yalçın, President of Memur-Sen said.
"This is not a "deal of the century" but the deal of the imposition! It is the "steal of century". The terrorist state Israel and its puppet US's plan of invasion is diplomatically unacceptable and null and void for us. Palestinian independence and freedom is a test of human dignity for both humanity and Muslim people. The new diplomatic black hole of the capitalists and imperialists is the plan of the century. We will not recognize the plan and we will raise our voices for the freedom of Palestine. We know that neither the US has the right to speak about Palestine nor Trump has a mind to speak about Al-Quds. I hope that deal of the century will be a reason to defeat Israel and enable the eradication of the USA from the Islamic geography. The deal of century plan is a Zionist invasion plan. Israel and Zionism with the help of the USA and Trump; want to start a world war that will target humanity, peace and stability of the whole world. Therefore, on behalf of Turkey's labour sector, as Memur-Sen Confederation, I invite each and every one of you to reject and demonstrate a common stance against these heinous plans." also Yalçın said.