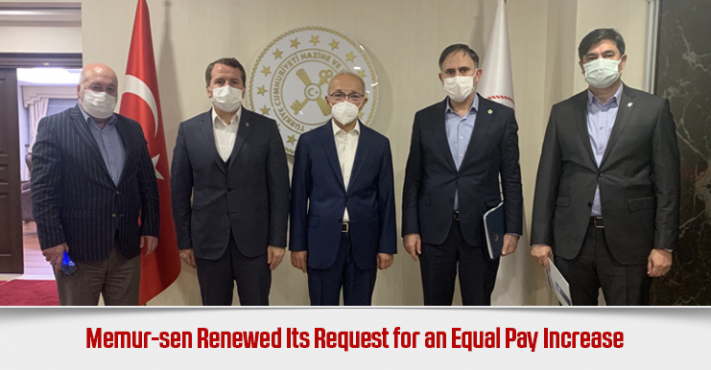 Memur-sen Renewed Its Request for an Equal Pay Increase
---
13.02.21, Saturday
Memur-sen met with Mr. Lütfi Elvan, the Minister of Finance and Treasury.
Memur-sen Executive Board has renewed its request for an equal pay increase
The President of Memur-sen Ali Yalçın alongside with his fellow Board Members paid a visit to Lütfi Elvan, The Minister of Finance & Treasury. 
Annual Inflation rate in Turkey was realesed with a 7.36% pay increase for the Public Servants. Based on this, Mr. Ali Yalçın, President of Memur-sen grapped the attention to the inadequacy of the increase on TV interviews and through his official page on social media.
In the meeting, which was held taking into account all necessary preventing measures against Covid-19, Mr. Ali Yalçın stated that the purchasing power of public servants has declined sharply and did not meet the expectations of public servants.
We are very aware that the announced figures do not reflect the real inflation rate on ground. Food inflation increased to 19%, the percentage of taxes reached up to 9.21% and the minimum wage increased to 21.56%. It seems it is easy to calculate the inflation rate in the light of the stated figures. Everyone knows that the purchasing power of Public Servants has fallen sharply. We need an equal and fair pay increase.
Contract public servants should be granted a permanent status of employment.
The issue of Employment Contract was brought into discussion during the visit, whereas Mr. Yalçın stated that the Employment Contract must be ended. The number of contract workers has exceeded 400,000. This issue must stay on our permanent agenda, Employment Contract must be ended and all contract workers should be given a permanent status of employment.
Following the Turkish local elections of 2019 were held on Sunday 31 March, a number of changes occurred inside municipalities. This worries the workers who fear that their collective agreements were now depend on a local decision made by the new mayor in place. Contract workers fear that they may be dismissed at any time. Those contract workers should be given a permanent status of employment. The contract workers voice, which was ignored for so long must be ultimately heard and their aggrievience must cease.
Additional payment granted to frontline workers
In his meeting with the minister of finance, Mr. Yalçın declared that, the frontline workers who are fighting against Covid-19, by risking their lives have not received any additional payment yet. This an issue that we must address, uncertainty must stopped and nothing of the problem should stay unsolved.