Memur-Sen has presented its proposals for the next collective agreements
---
27.07.21, Tuesday
In view of the upcoming collective negotiations for the years 2022-2023 (6th collective agreement), Memur-Sen has prepared and presented a report with the aim of improving the working conditions, wages and salaries of civil servants. On this occasion, Ali Yalçın requested a 21% increase for 2022 and 17% for 2023, which means a total salary increase of 38% for the next two years. In addition, as an exceptional measure, President Yalçın demanded a 6% increase in salaries in order to compensate for the loss in purchasing power that comes from the very insufficient salary increase obtained by arbitration award, as a result of the 5th collective agreements (2020-2021 period) that Memur-Sen had refused to co-sign.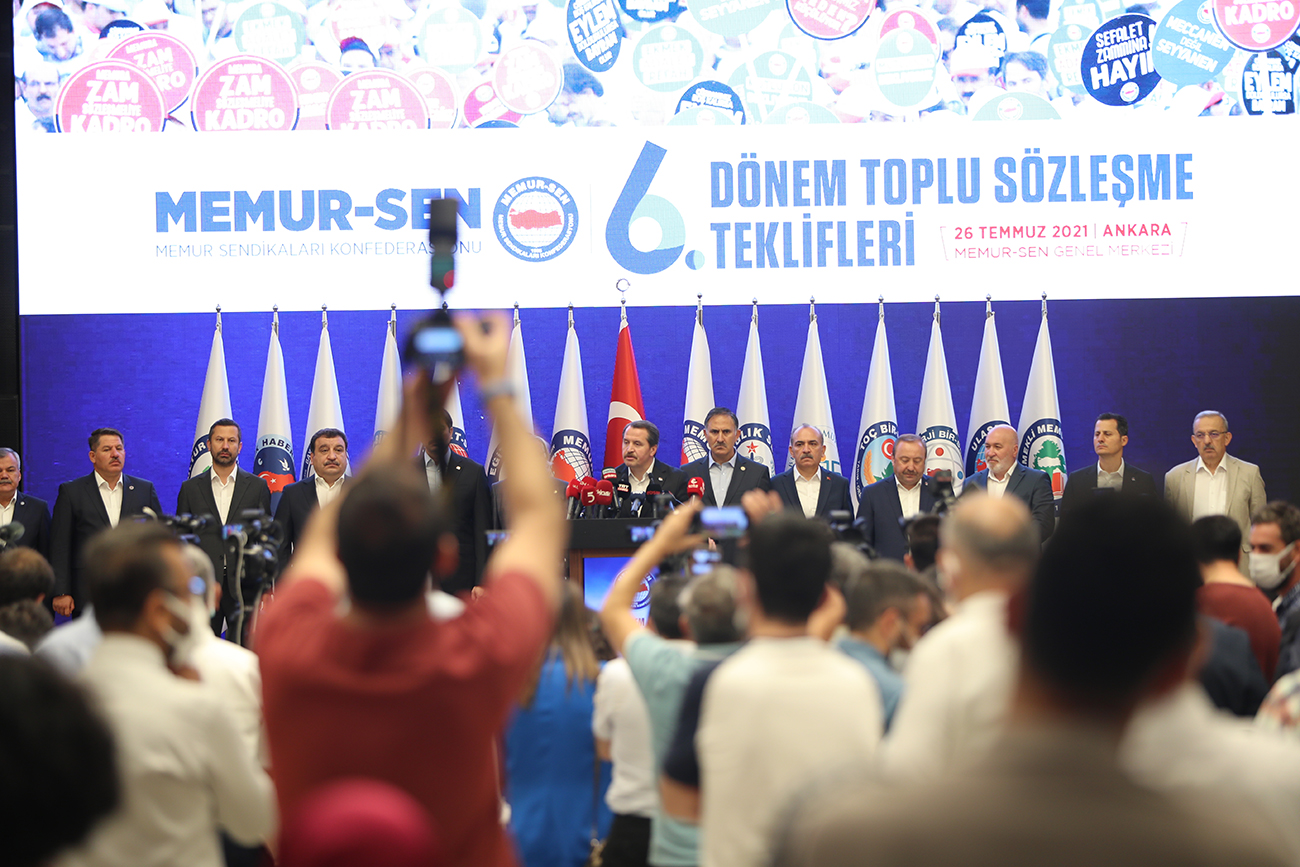 Speaking at the Memur-Sen headquarters, President Ali Yalçın stressed the importance of the right to collective bargaining: "While at the same time, at the international level, the practice of dialogue tends to grow, the dominant unilateral practice does not allow for effective dialogue," he said.
The future collective agreements will cover working conditions and employment as well as social guarantees for 6 million civil servants, including 2 million retired employees. This means that in total, together with their families, more than 20 million people are affected. Yalçın added: "The public employer should not remain impervious and indifferent to the demands of public sector workers, nor should it hide behind the excuse of 'public budget constraints'; on the contrary, it should prove its commitment to the collective bargaining process, which should be seen as useful, fair and effective, in line with the objective of social welfare," he said.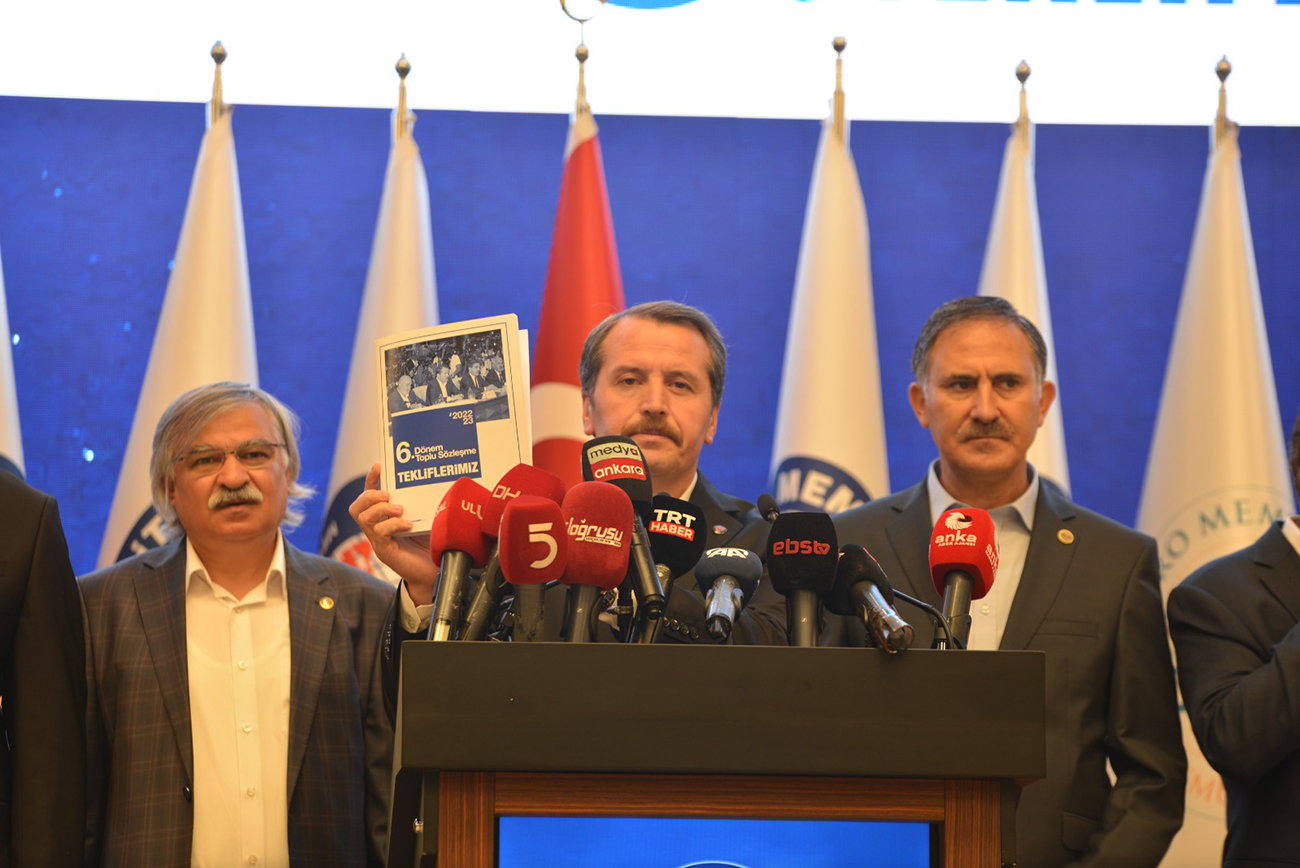 Pointing out that the Memur-Sen Confederation had invited 2 other confederations to form a common front in the collective bargaining process, Yalçın said, "We worked together on proposals with the Kamu-Sen Confederation, which responded positively to our invitation."
Memur-Sen, in addition to the 40 proposals already communicated, will present 51 new proposals, making a total of 91 proposals.
Below are the main points of the Memur-Sen proposals:
1- Inflationary pressure on wages must stop, wages should be increased by 38%. To avoid the destructive effect of inflation, the inflation gap should be reflected in salaries from the month when the inflation rate exceeds the rate of salary increase.
2- The contribution of public employees to the economic growth of the country should be taken into account, an extraordianary increase of 6%, distributed as follows 3% on 01.01.2022 and 3% on 01.01.2023, should be reflected in the salaries and wages of public officials.
3- Following the very insufficient increase in salaries sanctioned by arbitration award on the sidelines of the 5th collective agreements (period 2020-2021), which Memur-Sen had refused to co-sign, an allowance of 600 TL should be paid to all public employees.
4- Without any discrimination between civil servants, additional bonuses should be granted for performance, seniority, attendance, and hazardous and unhealthy work.
5- The limitations on severance pay should be removed, the index coefficients should be increased, the base coefficient for calculating severance pay should be increased to 100 points and the 25-year time limit for severance pay should be removed.
6- Contractual agents should have the same job guarantees as civil servants. The fallacy of contractual employment in the public sector should cease and those working in public institutions and organizations (including local governments) as contractual employees should be transferred to civil servant positions until 31.01.2022.
7- Workers holding positions as assistants, midwives, nurses, religious leaders, or auxiliary teachers should be appointed to civil service positions in accordance with their functions and titles in their institutions.
8- Without discrimination, public employees should receive holiday bonuses. The bonuses paid to retired workers in the private sector during Ramadan and Sacrifice holidays should also be paid to public employees.
9- Withholding tax on income should not generate loss of income; The problem of the basic income tax rate causing loss of wages and income for public officials should be solved, and income tax deductions exceeding 15% for public officials should be compensated by the public employer.
10- SEAs should be allowed to set salary caps up to 15%. The cap for those in the 1st group of Basic Salary Groups in SEAs is 15% / those in the 2nd group are 10.3%. We would like to see an additional 5% increase for those in this group.
11- The limitations that prevent internal promotion and access to functions and employment at a higher level must be lifted. Depending on their level of education, public employees should be able to access a higher level of employment.
12- Birth, death and marriage allowances should be increased effective January 1, 2022;
a) The birth allowance should be increased to 1,800 TL,
(b) The death benefit should be doubled,
(c) A marriage grant of TL 8,540 should be given to public employees.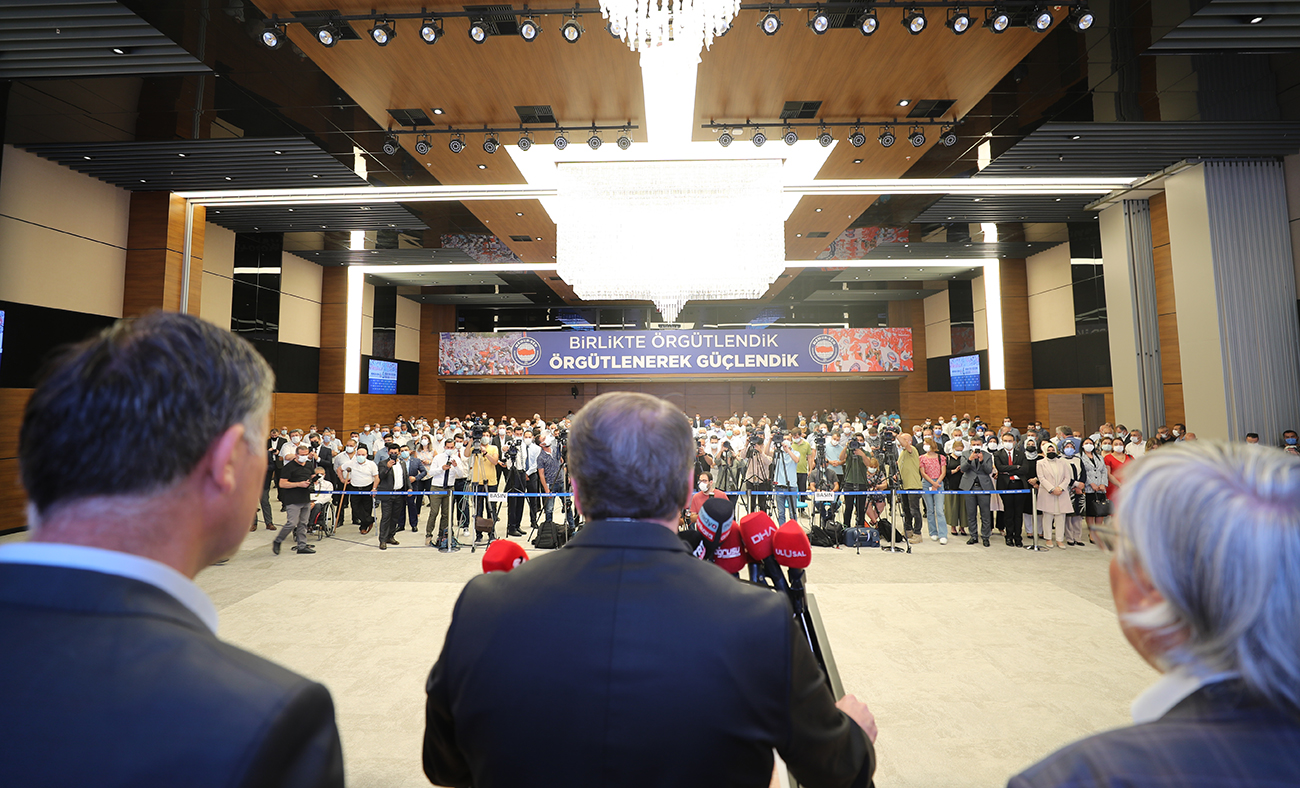 13- Clothing allowances should be increased, a day care service or alternatively a day care allowance should be granted.
a) Clothing allowance should be 500 TL for 2022 and 650 TL for 2023.
b) Daycare service or alternatively daycare allowance should be granted in the amount of 980 TL.
14- The auxiliary services class should be abolished, the existing staff should be transferred to the general administrative services class. The public personnel under the auxiliary service class should be transferred to the general administrative service class, this service class should be removed from the legislation and abolished.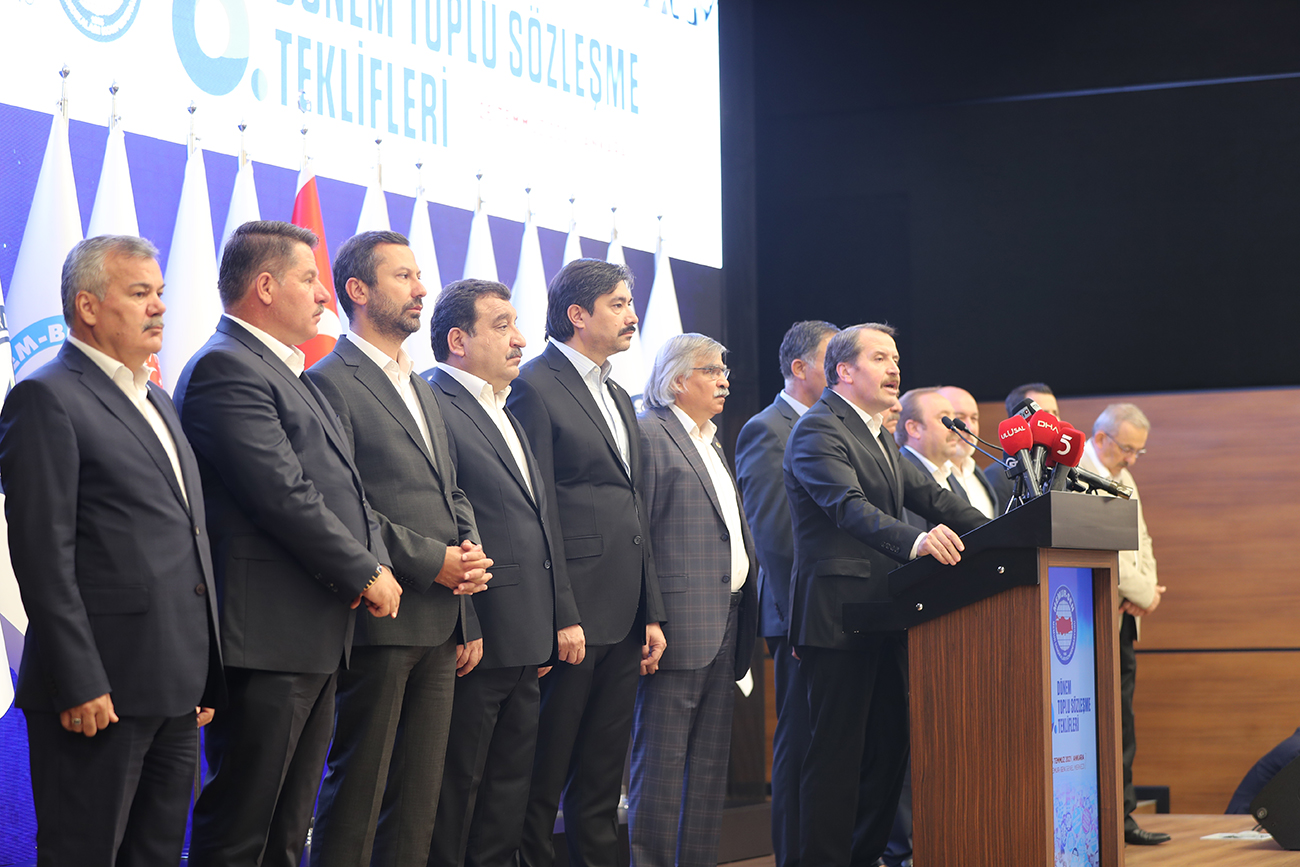 15- Retired civil servants should continue to enjoy the rights and benefits during the periods in which they worked, and should be allowed to maintain their affiliation with the unions. Retired civil servants who are not affiliated should be able to become members of the unions of the branch of service of the last institution/organization in which they worked.
16- The expectations of disabled civil servants must be taken into account and their rights must be established within the framework of positive discrimination. Daily and weekly working hours should be determined differently.
17- Female civil servants must be supported, their expectations must be considered and realized. The period of paid postpartum leave should be increased to 24 weeks. The duration of maternity leave should be extended, the practice of paying salaries during maternity leave should be adopted, and mechanisms to protect female civil servants from moral harassment should be put in place as soon as possible.
18- The use of contract workers (4/B) or short-term contract workers (4/C) should be abolished.
19- The damages caused by Covid-19 must be compensated, the burden of proof regarding the absence of a causal link should be placed on the social security institution, and an expansionist interpretation should be adopted in terms of financial and social rights to be provided in case of death or disability.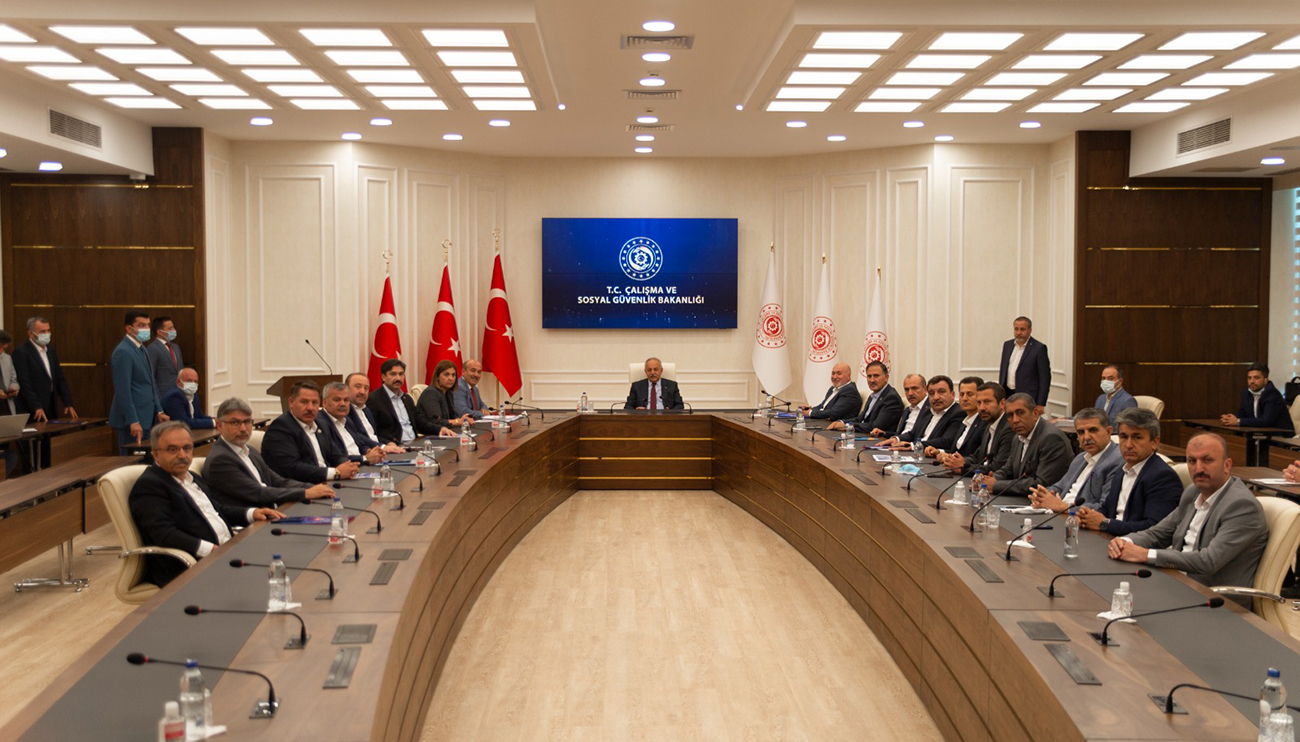 20 - In order to promote efficiency and professionalism in the public service, the competition is the instrument through which the principle of equality and merit is realized. Giving importance to merit in both promotion and recruitment is a vital necessity in terms of service quality. Tests for recruitment, promotion and advancement of civil servants must be held regularly in all public institutions. The institution of merit-based evaluation and grading must not be left to the discretion and arbitrary decisions of superiors.
21- The maintenance of the ban on membership in political parties and the ban on the right to strike infringe on the individual freedoms of civil servants; these constraints must be lifted as soon as possible.
22- Because it is not easy to get involved in trade unionism, the premiums related to the period of collective agreements should be increased to 450 TL on January 1, 2022 and to 540 TL on January 1, 2023.
On the sidelines of the press release, a Memur-Sen delegation visited the Ministry of Labor and Social Security to submit a copy of its report. Memur-Sen's report was handed over to the Ministry of Labor and Social Security by Vice President Hacı Bayram Tonbul, who met with Ahmet Erdem, Deputy Minister of Labor and Social Security.