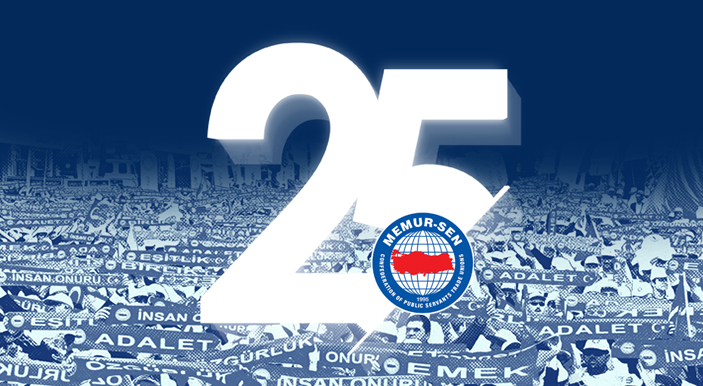 Memur-Sen celebrates its 25 years
---
09.06.20, Tuesday
Created 25 years ago, the core reason that lies in MEMUR-SEN's foundation is the protection of human dignity, human rights and the banning of all forms of discrimination.
Precisely 25 years ago, Mehmet Akif Inan has brought MEMUR-SEN to life in order to value human at an unprecedented level, to empower ways of struggle based on very solid grounds for the rights of all people.
Since its first day and until the present day, MEMUR-SEN's reason of existence is to defend ethical values such as peace, justice, freedom, equality and solidarity.    
MEMUR-SEN's core mission and vision is freedom and justice. Today, MEMUR-SEN is an example of an initiative that brings together and mobilizes in order to defeat injustices. MEMUR-SEN addresses the problems that workers face and gives them the tools and the skills to succeed.
The struggle that started in a single roomed office in Ankara 25 years ago has turned into a universal noble struggle dedicated to cultivating the marvellous human energy across all seven continents.
Although MEMUR-SEN is a pioneer in the field of redressing the injustices perpetrated against people in Turkey, that will forever serve as a reminder of the struggle, it speaks volumes about the belief that there are common interests among all of the nations of the world and challenges that require collaborative effort.
Recalling that MEMUR-SEN's permanent mission is to increase prosperity, alleviate poverty, develop democracy and enhance human rights. MEMUR-SEN condemns the class nature of the capitalist system, an instrument of organized violence for the capitalist class to defend its profit system against the working people, their dignity and their Human Rights without any absolute contempt for the sovereignty of the people.