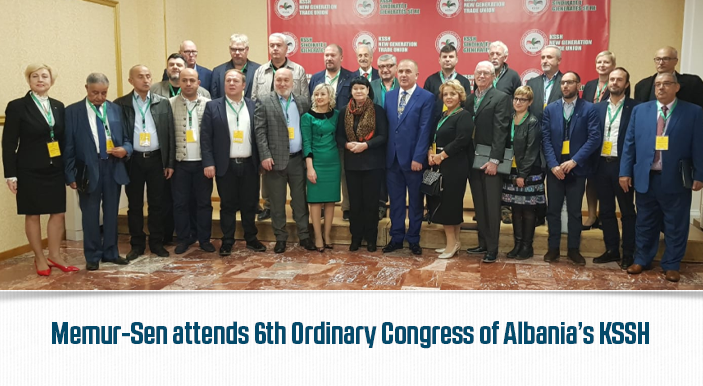 Memur-Sen attends 6th Ordinary Congress of Albania's KSSH
---
13.11.19, Wednesday
Mr. Hacı Bayram Tonbul, Vice-President of the MEMUR-SEN participated in the 6th Ordinary Congress of the Confederation of Trade Unions of Albania (KSSH), held from 10 to 12 November 2019 in Tiran, the capital of Albania.
On the occasion of 6th Ordinary Congress of Albania's KSSH, the Confederation of Trade Unions of Albania, which is a national confederation of trade unions in Albania, Memur-Sen Vice-President Hacı Bayram Tonbul and his accompanying delegation visited Albania on November 11,2019. Tonbol expressed his happiness with his participation in the congress and his presence in the hospitality of the friendly union. He also thanked to the President of KSSH, Mr. Kol Nikollaj for his great efforts.
During the congress, Mr.Tonbul also held bilateral meetings with representatives of national and international trade union movements. During the meeting, they exchanged views, in addition to discussing social and trade union affairs at the international level. They also discussed the possibility of cooperation between labour movements and achieving the sustainable development goals.