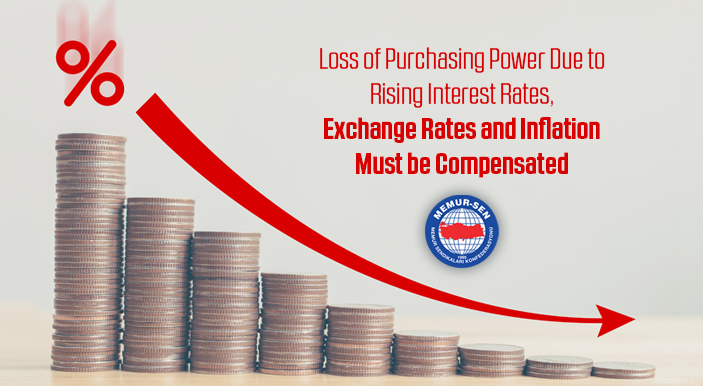 Loss of Purchasing Power Due to Rising Interest Rates, Exchange Rates and Inflation Must be Compensated
---
29.03.21, Monday
Like most economies in the world, Turkey's economy has been severely impacted by the pandemic; lower budget revenues, investments and economic prospects have put inflationary pressure on the country.
Indeed, the annual rate of inflation has been set at 14.6% for 2020. The Central Bank of Turkey raised its main policy rate from 11.25% to 15% in November 2020 and gradually increased it to 19% in March 2021. At the same time, the US dollar, which was trading at 5.95 Turkish Liras in January 2020, is now trading at around 7.90 Turkish Liras, an increase of around 40%, resulting in a significant loss of purchasing power.
At this stage, the decrease in purchasing power and the erosion of wages are of great concern to the workers and public officials that we represent.
In addition, the economic reform package recently announced by the Government does not respond to any of the expectations and proposals made by our confederation, the representative confederation of the country.
In short, the salaries of public employees have been and continue to be negatively affected by the current developments. The Memur-Sen Confederation demands that the salaries of public servants be increased without delay, urgent measures that are eagerly awaited by public service workers.
In this regard, we demand
- a 20% increase in the salaries of public employees,
- a reduction of the income tax to 15% instead of the current 20% as compensation for the loss of purchasing power of public employees
- a compensatory payment for the loss of purchasing power suffered since January 1, 2020,  
We demand that these legal and managerial regulations be implemented as soon as possible because human development and justice require it.