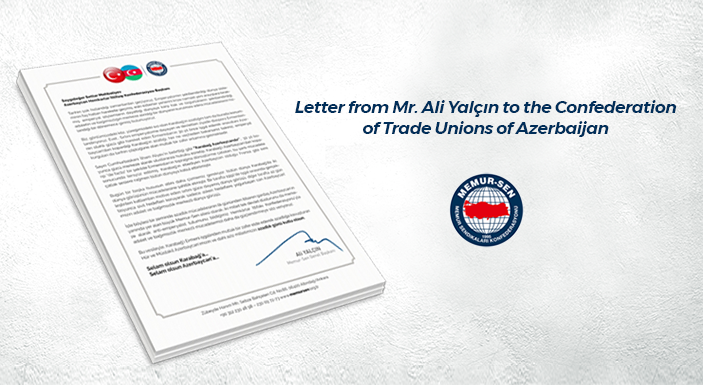 Letter from Mr. Ali Yalçın to the Confederation of Trade Unions of Azerbaijan
---
13.02.21, Saturday
Ali Yalçın, president of the Memur-Sen confederation, addressed a letter of congratulations to the president of the Confederation of Trade Unions of Azerbaijan, Mr. Settar Mehbaliyev, for the liberation of Nagorno-Karabakh from the Armenian occupation.
Memur-Sen President Ali Yalçın congratulated the victory of the Azerbaijani people with a letter he sent on the day of the victory parade, which was held in Azadlık Square in Azerbaijan due to the liberation of the Nagorno-Karabakh region with the presence of President Recep Tayyip Erdoğan and President of Azerbaijan İlham Aliyev.
In the letter sent to Mr. Settar Mahbeliyev, president of the Confederation of Trade Unions of Azerbaijan, Yalçın expressed his joy for Azerbaijan's victory and said that the liberation of Karabakh from the occupation had ruined the imperial plans.
In his letter, Yalçın stressed that Armenia was based on imperialism and acted as the armed power of the Armenian diaspora, "The liberation of Karabakh, which Armenia occupied 30 years ago, is an absolute victory, which throws imperial fictions in the waste of history".
In the letter of support written by Yalçın, stating that the struggle of two worldviews was taking place in Karabakh, he also clarified: "On the one hand, the worldview that motivated the massacres perpetrated during the occupation in 1992 , and on the other hand, our Azerbaijan focusing only on military objectives by protecting civilian targets for 42 days. Justice and independence have taken place".
Yalçiın, said that as Memur-Sen family, we will strengthen our struggle for justice and independence with the Confederation of Trade Unions of Azerbaijan and congratulate the Azerbaijani people and army for this victory.