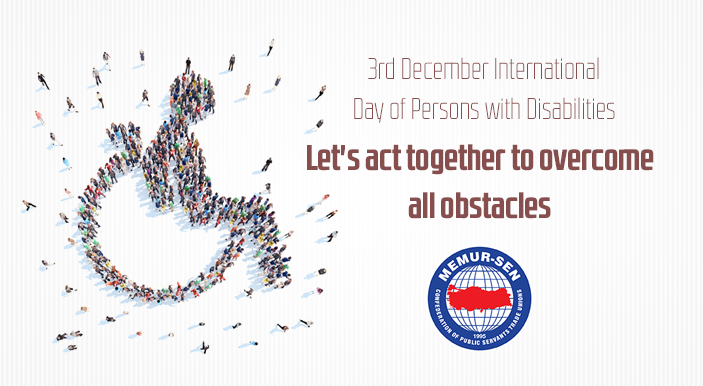 Let's act together to overcome all obstacles
---
03.12.18, Monday
On the occasion of the International Day of Disabled Persons, Memur-Sen Disabled Persons Committee revealed a statement in which "We wish to live in a world without any obstacles," they said.
Memur-Sen Disabled Persons Commission, which operates under the body of Memur-Sen, has issued a statement on the occasion of the "3rd December the International Day of Disabled Persons". In its statement, Commission highlighted that 3rd December the International Day of Disabled Persons should pave the way for disabled people and disabled public employees to be live in better conditions, to meet the expectations of positive discrimination on the basis of a new milestone to open the door of wishes." It is also said that "We wish to live in a world without and obstacles."
Statement of the Disabled Persons Commission:
We have over ten million disabled citizens living in our country. Today; it is the day of confrontation of our problems caused by the prevention rather than disability. This international day is a day of raising awareness on disabled persons rather than a day of celebration.
Acting with the principle of "Everyone should take responsibility for a life without any barriers", our union never stopped taking its duties and knew how to put its hand on the move. For Memur-Sen Disabled Persons Commission, the main reasons for the prevention of the principle has been adopted to work and continue to work in this direction. In our country, especially after 2000s, many acquisitions have been achieved and the public and private sector has gained the opportunity to be employed.
In this context, we want to draw attention to the accessibility in terms of working life and social life besides employment.
The participation of people with disabilities as independent individuals in every field of public life will be possible by organizing accessibility in the full sense. If accessibility is provided, disability is not an obstacle in all areas of life, participation in social life and quality of life increase. In this sense, official structures, public roads, sidewalks, pedestrian crossings, green areas, sports fields and public transportation vehicles must be made suitable for disabled people.
In this regard, Memur-Sen calls on the public authorities to strengthen the participation of civil society organizations in work to facilitate the integration of people with disabilities into public life.