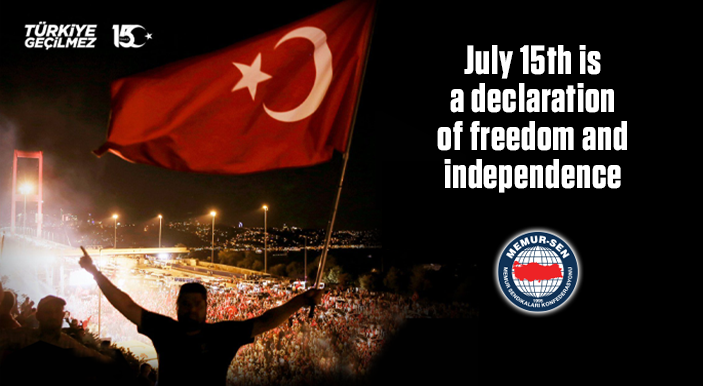 July 15th is a declaration of freedom and independence
---
26.07.21, Monday
With the benefit of hindsight, we understand with greater clarity what would have happened to Turkey, if an impassable human cordon had not been formed, 5 years earlier, against the instigators of the July 15, 2016 coup attempt.
That night, subcontracted by imperialism to serve its dark ambitions, the terrorist organization FETÖ was defeated by the unwavering will of a united and sovereign Turkish people.
That night, all the vile imperialist designs were thwarted by the will of a nation determined to defend its independence.
That night, the coupists used 35 fighter planes, 37 helicopter gunships, 246 armored vehicles, including 74 tanks, to drop bombs on public institutional buildings and 3992 automatic rifles to shoot at the resistance fighters.
That night, we mourn the death of our 251 patriots and the other 2,000 wounded who heroically defended the future of our nation.
In that dark night and in the days that followed, we, as MEMUR-SEN, stood by our nation and demonstrated our determination to resist and not give in to the threat of the coup.
Indeed, at the invitation of our president Ali Yalçın, from the very first hours of the coup attempt, the women and men who make up our unions were invited to go to the public squares to stand in the way of imperialism.
That night, four of our brothers and sisters belonging to the Memur-Sen family sacrificed their lives to ensure the triumph of the will of the nation.
Our prayers are with Prof. Dr. İlhan VARANK, Yusuf ELİTAŞ, Ali ALITKAN, and Cuma DAĞ.
That night, the alliance between FETO, PKK/PYD, and DAESH organizations was defeated!
July 15 symbolizes the victory of resistance, as workers, we promise to protect the memory of our martyrs, who fell without the only hesitation to defend our country and its independence.