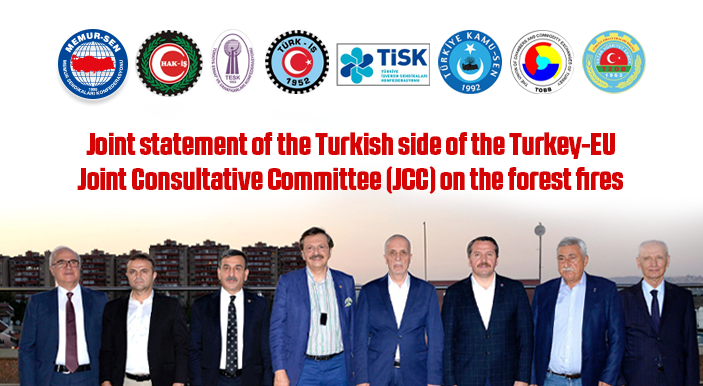 Joint statement of the Turkish side of the Turkey-EU Joint Consultative Committee (JCC) on the forest fires
---
05.08.21, Thursday
The Turkish side of the Turkey-EU Joint Consultative Committee (JCC), of which the Memur-Sen Confederation is a member, issued a joint statement regarding the forest fires that have been ravaging Turkey for over a week.
Below is the full text of the statement:
The Turkish side of the Joint Turkey Committee, composed of trade unions and professional organizations representing workers, farmers, employers, civil servants, craftsmen, traders, industrialists and producers in Turkey, has expressed its deep sorrow over the forest fires that are currently ravaging Turkey.
For the seventh consecutive day, fueled by strong winds and scorching temperatures, the fires that started last Wednesday have already claimed eight lives.
We extend our condolences to the families of our fellow citizens who lost their lives in the fires and wish a speedy recovery to the injured. Also, we would like to express our gratitude to all the teams and our fellow citizens who are fighting day and night to put out the fires.  
In these difficult days, wishing courage and perseverance to overcome the consequences of this disaster, our solidarity and thoughts go to the Turkish people and the firefighters who are fighting the flames,
Confederation of Rights Trade Unions (HAK-İŞ)
Confederation of Public Service Unions (MEMUR-SEN)
Confederation of Turkish Traders and Craftsmen (TESK)
Confederation of Turkish Trade Unions (TÜRK-İŞ)
Turkish Confederation of Employers' Associations (TİSK)
Turkish Confederation of Public Employees' Unions (Turkey KAMU-SEN)
Union of Chambers and Commodity Exchanges of Turkey (TOBB)
Union of Chambers of Agriculture of Turkey (TZOB)