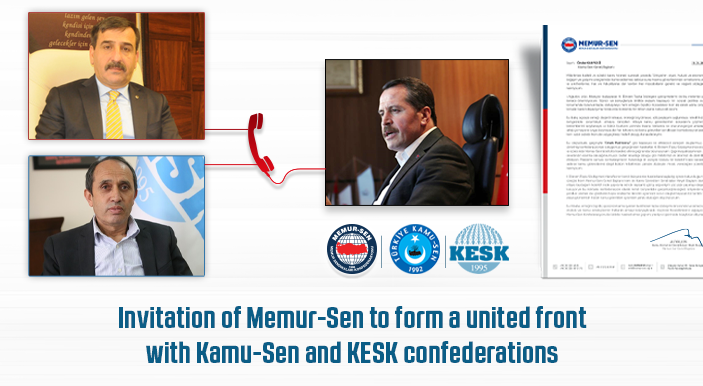 Invitation of Memur-Sen to form a united front with Kamu-Sen and KESK confederations
---
01.06.21, Tuesday
Ali Yalçın, President of the Memur-Sen Confederation, invited Kamu-Sen and KESK confederations to form a united front in order to start under the best auspices, the future collective bargaining negotiations, which will begin in August.
In his letter to the Kamu-Sen and KESK confederations, Ali Yalçın said he wanted to strengthen the partnership: "We must act in unison in the interest of a common goal, which will ensure a decisive contribution," he pointed out, adding that "In this regard, the formation of a converging partnership is essential to conduct future collective bargaining in the best possible way," stating that the said invitation to form a united front with the Kamu-Sen and KESK confederations, had received the unanimous support of the members of the executive board of the Memur-Sen confederation.
In addition, in order to discuss the possibilities of a common and concerted strategy, Ali Yalçin also spoke by phone with his counterparts, Önder Kahveci, President of Kamu-Sen and Mehmet Bozgeyik, Co-Chairman of KESK, with the aim of effectively tightening the cooperation to promote the rights and demands of public service workers.