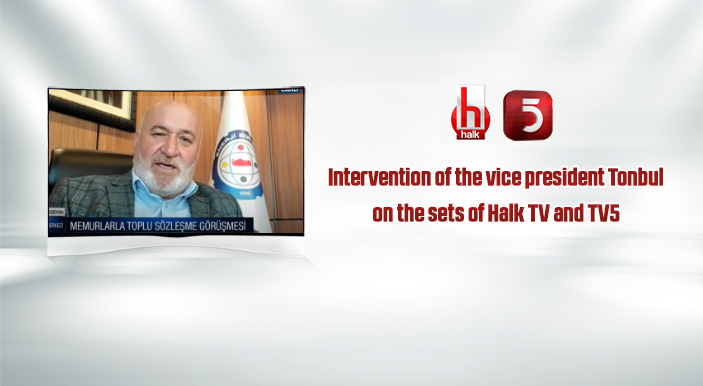 Intervention of the vice president Tonbul on the sets of Halk TV and TV5
---
30.07.21, Friday
The vice president of Memur-Sen, Hacı Bayram Tonbul, invited to speak live on Halk TV and Tv5 channels on the occasion of the Collective Agreements that will begin on August 02. Recalling Memur-Sen's published demands for wage increases, Tonbul called on the government to address the low purchasing power of civil servants.
The Memur-Sen Confederation presented its demands for a 21% salary increase for 2022 and 17% for 2023, as well as a 6% social share for the next two years and a 600 TL increase.
Stating that Memur-Sen's demands for increases are reasonable and prepared according to economic realities, Tonbul said, "In recent years, the government has prepared inflation targets that have clearly never been met. Public employees have suffered an unprecedented decline in their purchasing power. In this regard, effective preventive measures must be studied, compensation corresponding to the losses suffered over the period of the previous two years must be calculated and paid," he said.
Tonbul said that in order to protect the civil servant from inflation: "The payment of the inflation gap cannot and should not be perceived as a raise. A raise is only real when it is higher than inflation, it is intended to promote social welfare," he said.