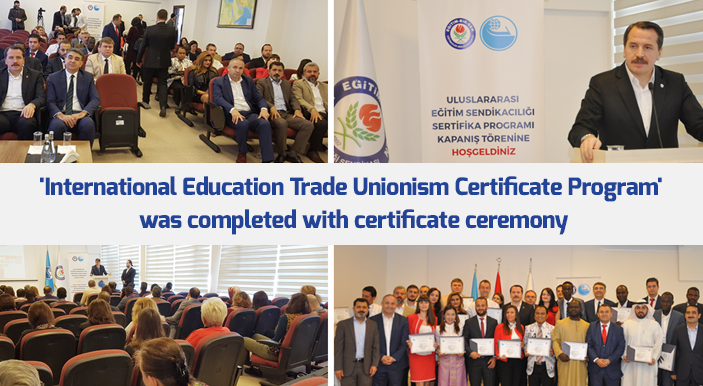 'International Education Trade Unionism Certificate Program' was completed with certificate ceremony
---
19.10.17, Thursday
Memur-Sen and Eğitim-Bir-Sen President Mr. YALÇIN in his speech describe the aim of the certificate program as exchange of ideas and experiences. Yalçın said "You came from different countries with different cultures and customs. It is a big gain for us to be familiar with your cultures. In this world everything has its own way of speech and of course trade unionists also have an international language. The thing which brings us together it's our common efforts."
Teaching is not a part-time job but it is a full time job.
Yalçın said "We all came from education trade unions and almost all of us are teachers. In this new period "flexible working and working at home" will be one of the most discussed topic because the only job that needs to work at home is teachers' job. Government executives and employers evaluate teachers' performance only at school but a teachers' job continue at home. Teachers read examination papers, make preparations and prepare the lesson for the next day. Consequently for us our home is our work place."
 The matter is to find solutions.
Yalçın emphasized that the current trade unionism understanding should be changed. "Trade unions generally choose the easy way. They just point out problems that is actually being the easy way. They must  find solutions to these problems as well as point out problems.
Aslan: "We work for a peaceful world."
Director-General of TODAIE Mr. Onur Ender Aslan said we work for the prosperity and peace of the world. By adding his speech, he emphasied that "They are all very young trade unionists and they will occupy a good position in the future. I know that our guests are a path of hope for a peaceful world. The friendship between our guests will be endless. Thereby, I think that this program is very important. We give a big importance to these programs. As you know forces comes from unity, it's why we have to be unit for a better world."