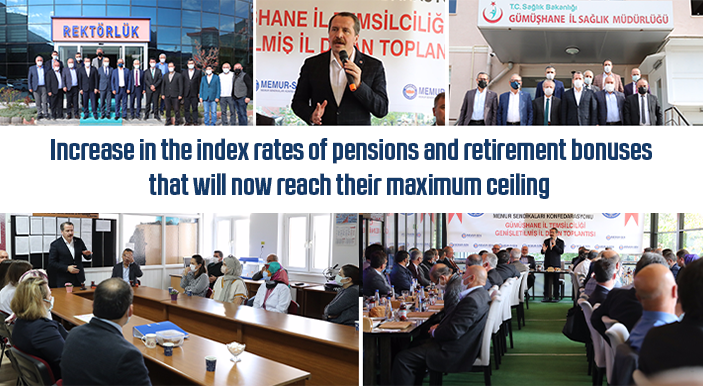 Increase in the index rates of pensions and retirement bonuses that will now reach their maximum ceiling
---
15.10.21, Friday
Ali Yalçın, accompanied by Memur-Sen Vice President Hacı Bayram Tonbul, who is continuing his visits to Memur-Sen provincial representations across the country, participated in the trade union activities organized by the Memur-Sen representation of Gümüşhane where he welcomed the increase in index rates of pensions and retirement bonuses that will now reach their maximum ceiling.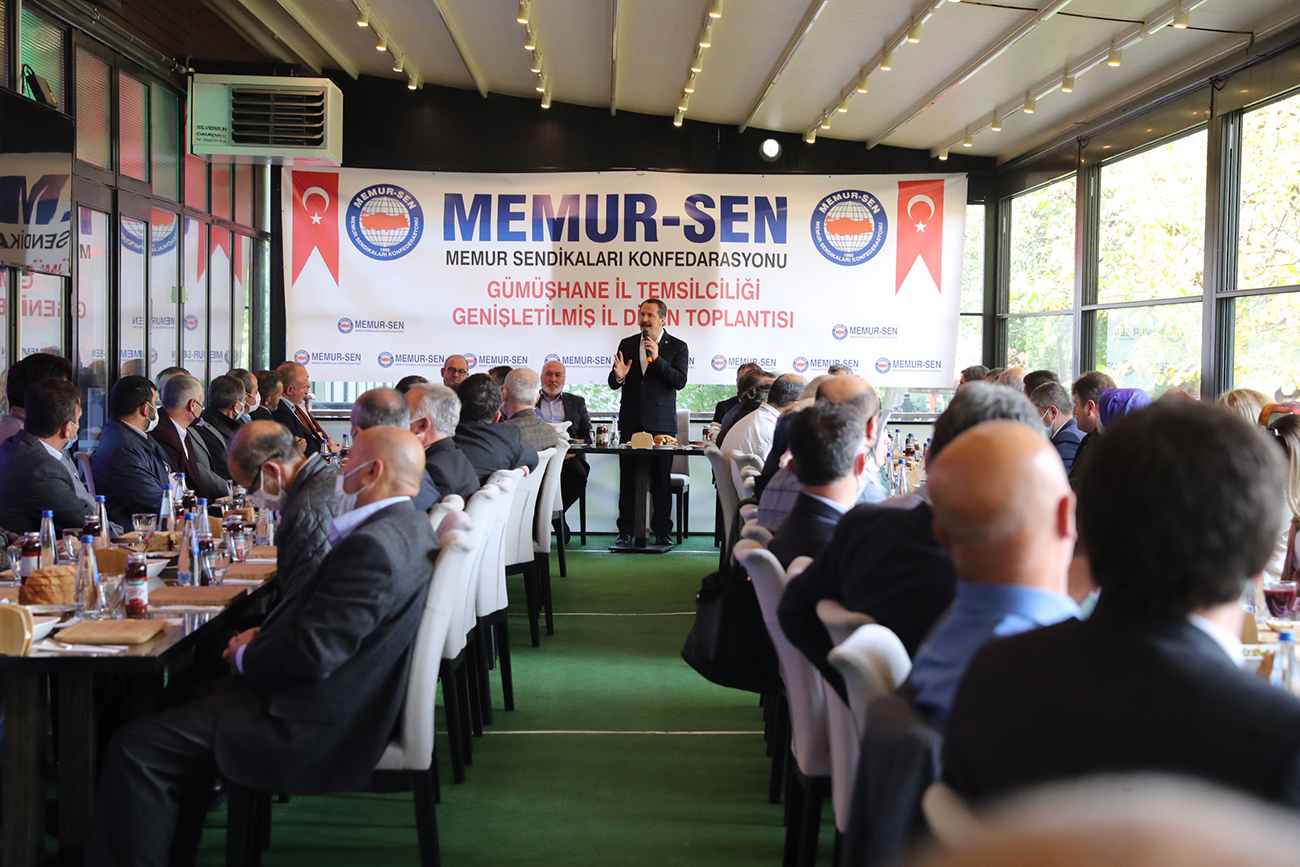 Recalling the many sacrifices of public employees whose purchasing power had literally collapsed over the period of the previous collective agreements (2020-2021) that Memur-Sen had refused to co-sign, Yalçın said that the general increase in salaries, which is essential for a true recognition of the qualifications and commitment of public employees, is the result of bitter negotiations around the smallest comma."
Sharing his findings at the meeting organized by the Memur-Sen representation in Gümüşhane, Ali Yalçın said, "We have obtained a commitment from the President of the Republic in person, on the raising, to the maximum ceiling of the index rates and retirement benefits that will come into effect in the course of 2022," he said.
Regarding the benefits resulting from the conclusion of the collective agreement for the biennium 2022-2023, welcoming "a viable compromise", which includes "provisions on improvements in terms of allowances and social benefits" Yalçin said he was pleased with the increase in the bonus reserved for unionized public employees which will rise from 536 TL to 1600 TL/year.
Finally, pointing to the discrepancies especially on the legal duration and frequency of collective bargaining which is at the heart of the difficulties of wage negotiation, Yalçın added: "There are notable differences in the regulations, adding that: "Collective bargaining is intended to ensure a certain social justice and the conclusion of quality agreements presupposes having time to negotiate, this conception of the right to collective bargaining must be challenged and that is why Law No: 4688, absolutely must be amended," he concluded.