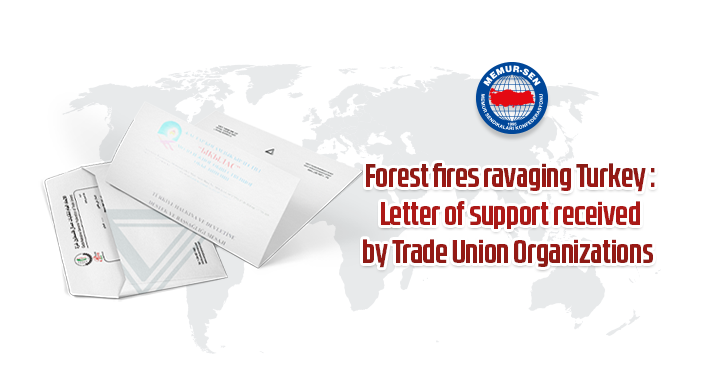 Forest fires ravaging Turkey : Letter of support received by Trade Union Organizations
---
11.08.21, Wednesday
Due to the forest fires that have occurred in various parts of our country, especially in the provinces of Antalya and Muğla, the Memur-Sen confederation has received many letters of support from friend Trade Union organizations.
Filled with solidarity, in the face of the catastrophic and unprecedented scale of the fires that have ravaged several hundred thousand hectares of forest this fortnight in Turkey, the letters received by the friendly trade union organizations have expressed their deep sorrow and condolences to the families of the citizens who have lost their lives.
In the letter sent by the Confederation of Independent Trade Unions of Bosnia and Herzegovina, its president, Selvedin Šatorović, said he was very concerned about the scale of the fires, adding: "It is distressing to see countless hectares of forest disappearing, but our greatest suffering accompanies those who have lost their lives," he said.
The president of the Ukrainian confederation Vost Volya, Oleksandr Dzhulyk, said in his letter that he was observing the situation closely with concern and pain, adding that: "We wish Turkey strength and patience to overcome the consequences of this disaster as soon as possible," he said.
In addition to solidarity with the Turkish people in the face of the catastrophic consequences of the forest fires, the letter sent by the National Confederation of Labor of Morocco is addressed to our fellow citizens who lost their lives, wishing them divine mercy.
In the letter sent by the Board of Directors of the Pakistan Workers Federation (PLF), the Board wished God's mercy to those who lost their lives and said, "The people of Pakistan support the people of Turkey in this difficult time, as they always do."
Below is the list of confederations that we would like to thank.
1. CSA / CNSP (Senegal)
2. USAM (Madagascar)
3. MLC (Mauritius)  
4. FESACI (Ivory Coast)
5. USTB (Burkina Faso)
6. CGTB (Benin)
7. (SSBIH) Bosnia-Herzegovina
8. Ykylas Foundation (Kazakhstan)
9. PLF (Pakistan)
10. WAWO (Belgium)  
11. VOST VOLYA (Ukraine)  
12. UNTM (Morocco)
13. GFTU (Palestine)  
14. CGTF (Lebanon)
15. UNPEF (Algeria)
16. GFIW (Iraq)
17. CNTM (Mauritania)