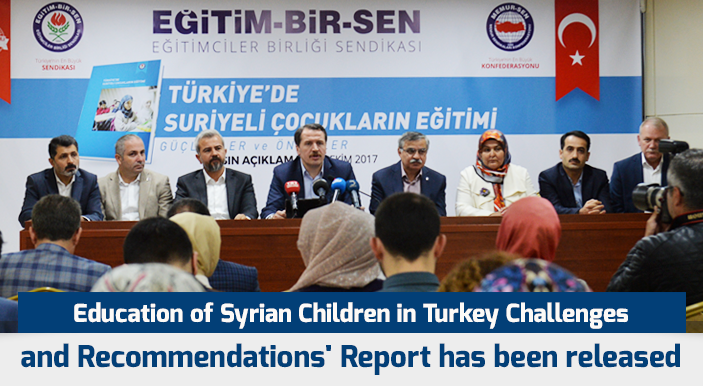 Education of Syrian Children in Turkey Challenges and Recommendations' Report has been released
---
13.10.17, Friday
Education of Syrian Children in Turkey Challenges and Recommendations' Report has been released
Millions of people had to leave their country and seek refuge in neighbouring countries since the civil war that has been raging in Syria since 2011. Turkey has become a refuge for Syrians during this period. As a result of this, over 3 million Syrians are living in the 81 provinces of Turkey. 1.5 million of the Syrians in Turkey are under the age of 18 and 1 million of them are school age children. More importantly, hundreds of thousands of Syrians have transitioned from childhood to adulthood in Turkey over the last six years.
Education is a critical tool for the millions of Syrians to hold on to life and look hopefully towards the future in the host countries. Syrian children can overcome the fate assigned to them and have the opportunity to build a new future for themselves through a quality education. Moreover, through education, Syrian children will get integrated into Turkish society and become part of Turkey's economic and social life. If these children miss out on education, there will be many risks for them as well as for Turkey and its neighbor, Syria. Not being schooled and not having access to quality education will push Syrian children to the margins of society and lead to their ghettoization, radicalization and loss of hope for the future.
Mr Ali Yalçın who is the President of Memur-Sen and its affiliated union Educators Trade Union said about the book that "Primarily the high-ranking administrators of the Ministry of National Education and also province/county and school administrators, all other public institution employees who attend to matters on Syrian children and non-governmental organizations all have major responsibility for providing every Syrian child with a quality education. In addition to this, the international community needs to provide more support and contribution for the education of Syrian children and take on more responsibility. I believe that this report will provide guidance for those in the international and national community who are working on providing Syrian children with quality education. I would like to take this opportunity to thank the research team that prepared this report."