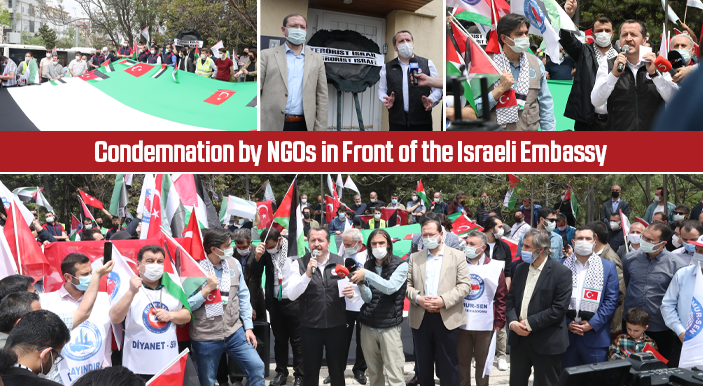 Condemnation by NGOs in Front of the Israeli Embassy
---
10.05.21, Monday
After the Israeli Jewish settlers forcibly expelled Palestinians from their homes and usurped their properties, the protests started in various parts of Palestine, especially in the Masjid al Aqsa, and the violence applied by the Israeli state was also protested in Turkey. In the action organized by Memur-Sen, Anatolian Youth Association and IHH in Ankara, messages of support were given to Palestine.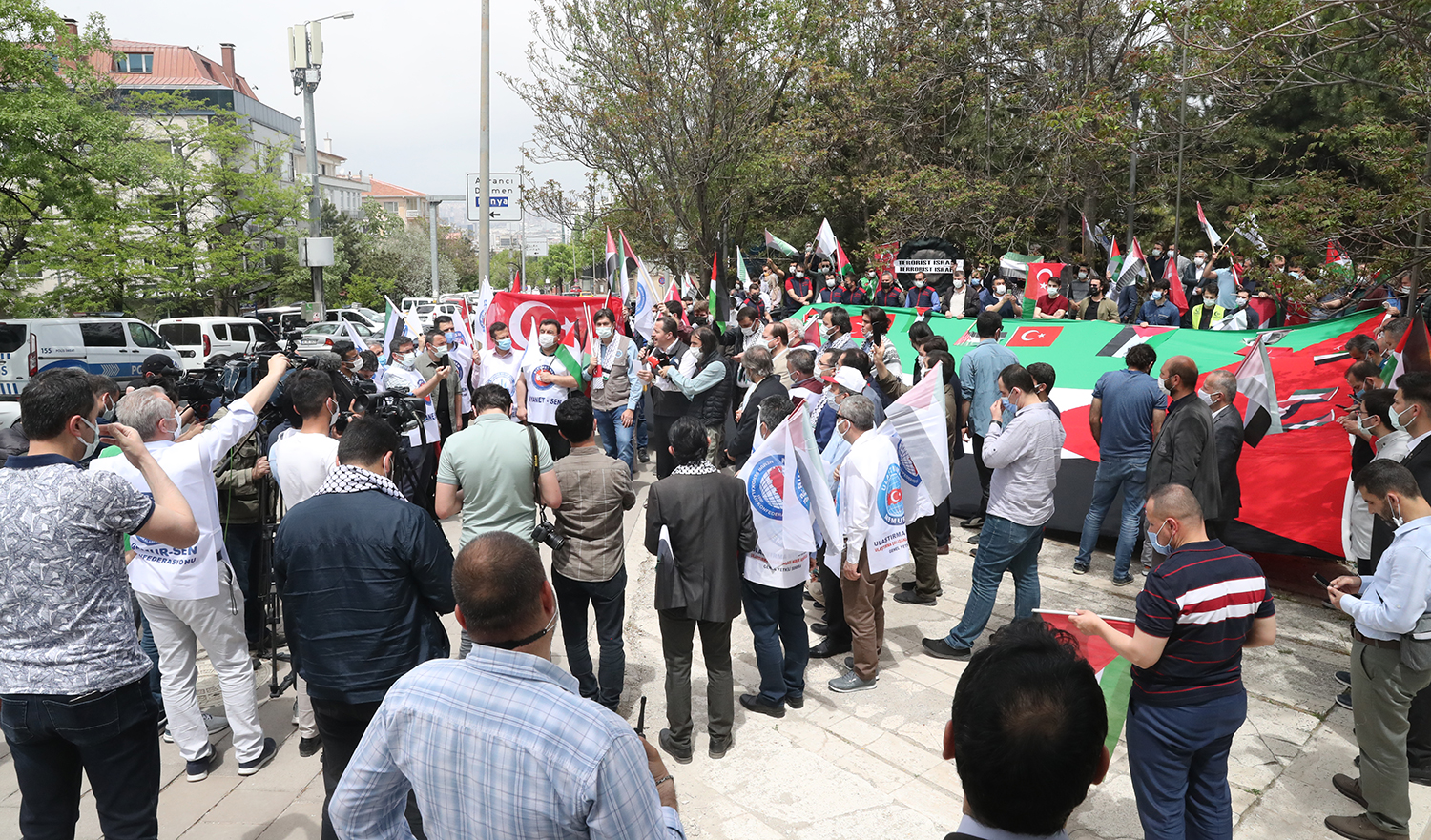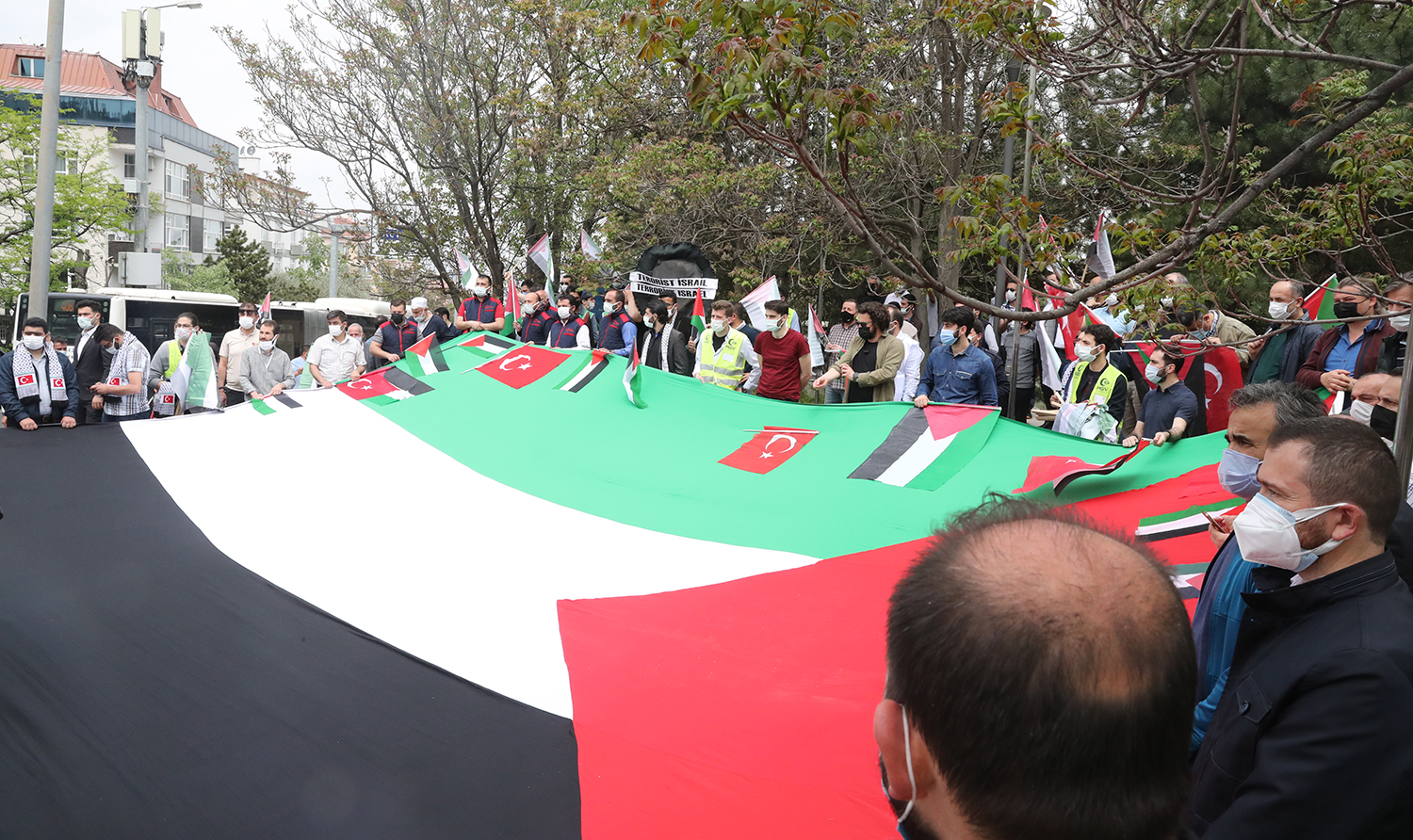 The demonstrations, which started after the occupant Israeli settlers wanted to force the Palestinians out of their homes in Al Quds, soon spread throughout Al Quds. After the Israeli police used steel bullets and tear gas to the Palestinians during the demonstrations, especially in the Masjid al Aqsa and its surroundings, the support from Turkey did not delay. Following the action held in front of the Israeli Consulate in Istanbul last night, a meeting was held in front of the Israeli Embassy in Ankara today. 
Speaking at the action where the flags of Turkey and Palestine were carried, Memur-Sen President Ali Yalçın emphasized that Israel is a terrorist and occupant state, and that even primary school children in Israel were raised as racist, Arab and Muslim enemies, and this is the state philosophy of Israel.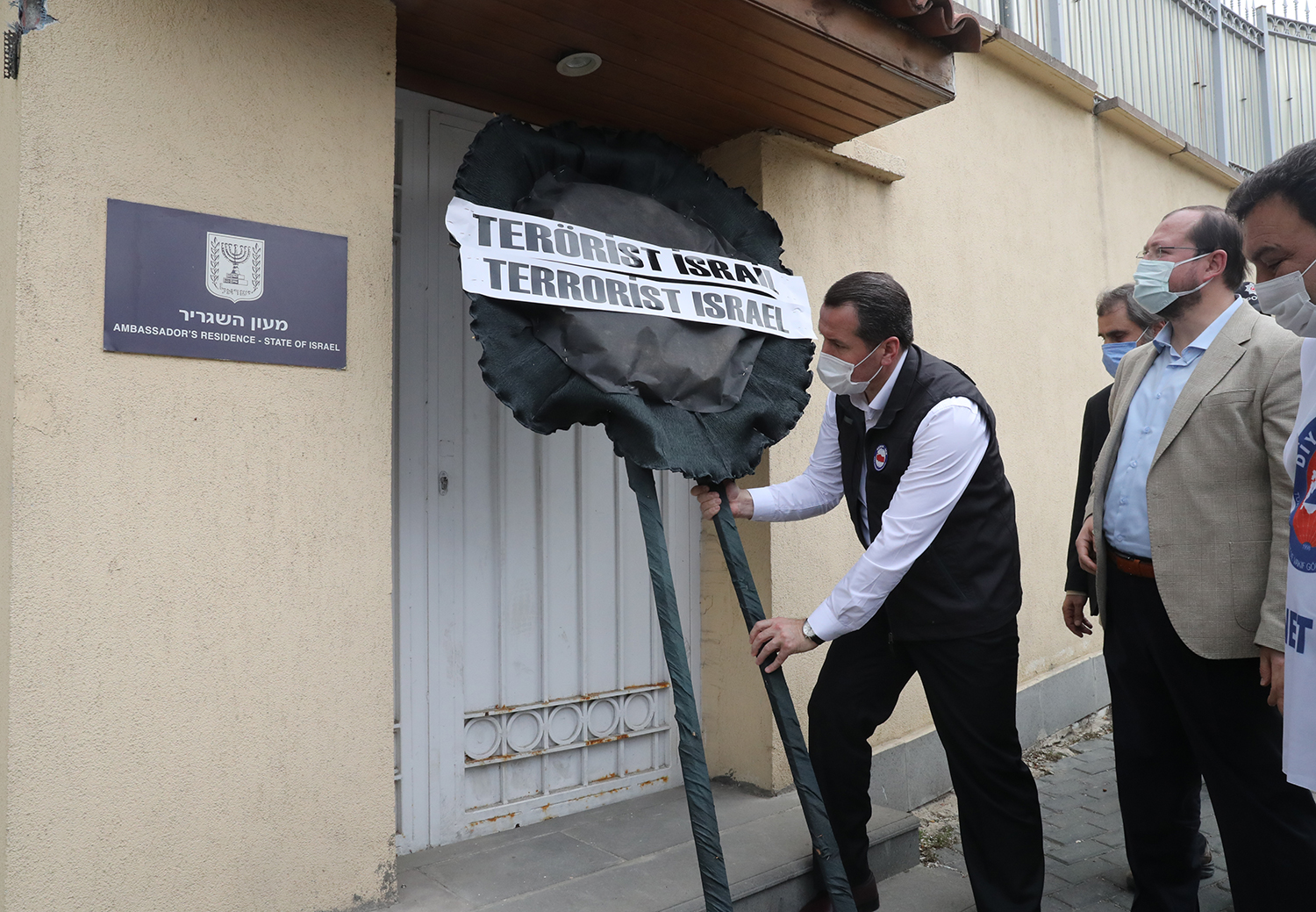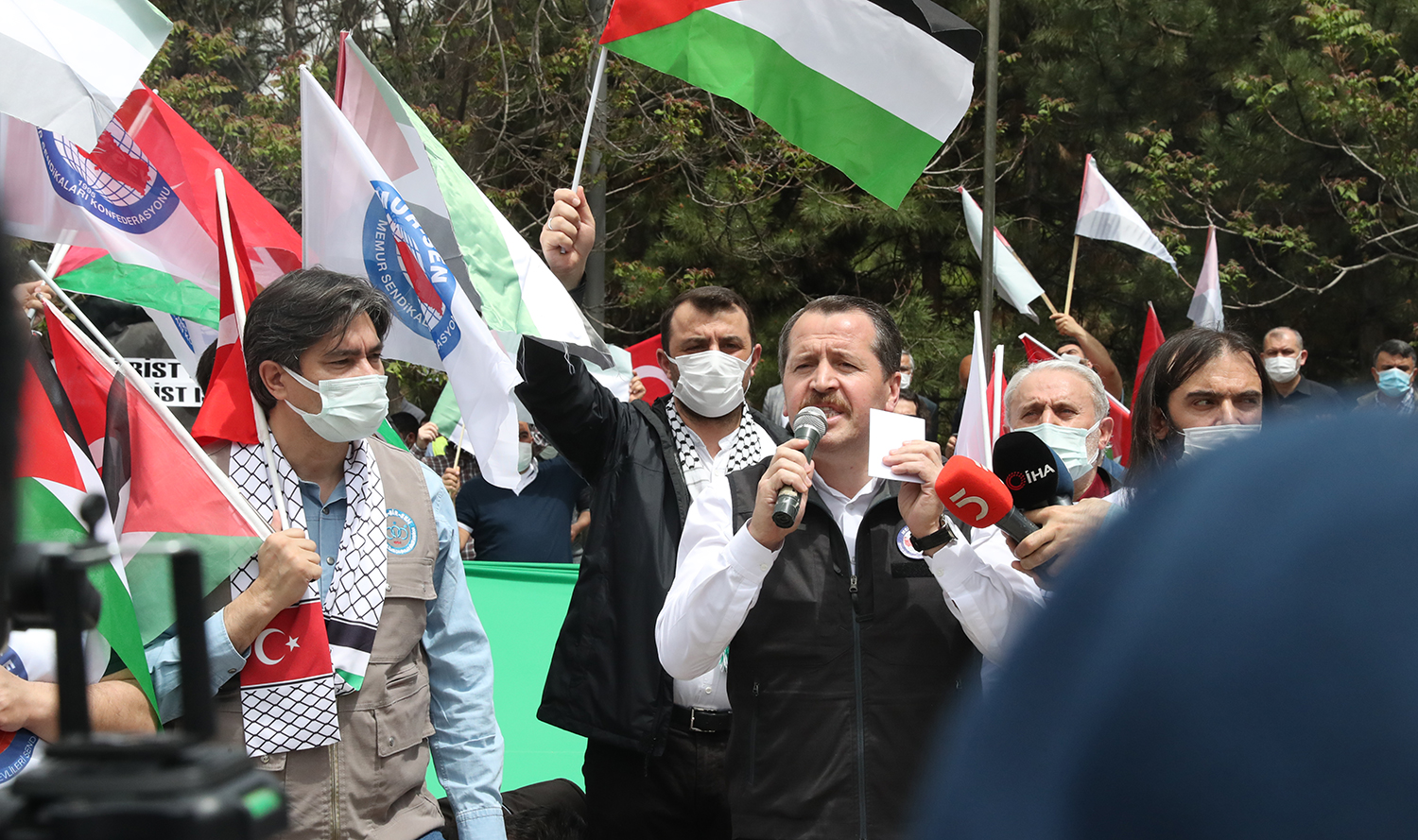 Yalçın said, "As people from Ankara trying to mobilize the conscience of society, we say that The Al Quds case is not alone, the Muslims there are not alone. We will continue to defend it until the last drop of our blood. As sensitive people in Turkey, we must continue to keep this issue on the agenda. We will not refrain from reacting at the slightest incident. As non-governmental organizations, we must show our immediate response to such events" he said. 
Drawing attention to the insensitivity of the Islamic world regarding Palestine, Yalçın said, "Muslim countries should act together to stop Israel. There is an understanding that sees their cruelty as legitimate as a right. Israel's fancy phrases should never be fooled. Al Quds is the common value of humanity Masjid Aqsa is human honour. I greet our brothers resisting in Masjid Al-Aqsa in Al Quds from here. Istanbul is with you, Ankara is with you, Turkey is with you". 
After the speeches, Memur-Sen President Ali Yalçın, Anatolian Youth Association President Salih Turhan and IHH Ankara Branch President Mustafa Sinan laid a black wreath in front of the Israeli Embassy with the words "Terrorist Israel". 
In his speech here, Memur-Sen Chairman Yalçın said, "We are protesting the persecution of terrorist Israel in Al Quds, and we leave this black wreath in front of the ambassador's residence as a message to the murderer formation. We are with our brothers in Palestine. Palestinians are not alone. Israel must understand that we will not leave the oppressed Palestinians alone that all Muslims in the world will continue to react consciously on this issue. We will raise our own children with the dream and awareness of the freedom of Aksan and the freedom of Palestine. I wish Qadr Night to bring good luck for our Palestinian brothers. Long live our Palestinian resistance, long live free Al Quds," he said.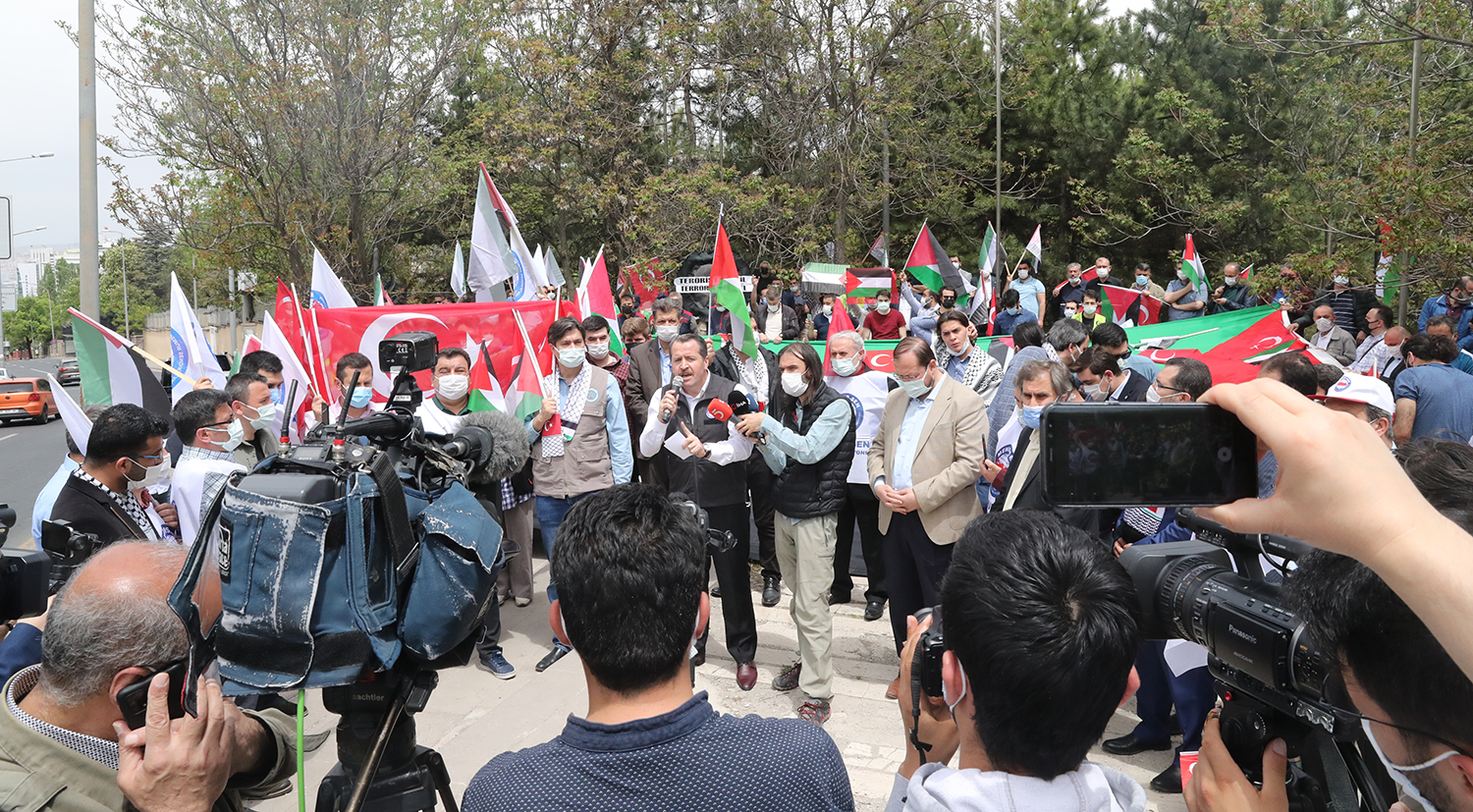 Here is a dialogue that took place in Israeli schools, as quoted by Memur-Sen President Yalçın in his speech:
What comes to your mind when you say Jerusalem?
-sacred city, temple...
-Who believes that Solomon's temple will be built soon? (Everyone raises hands) What is in the area where the Temple of Solomon will be built?
-Masjid al Aqsa
-So what will be the mosque?
-Will fall down, collapse, disappear.
-Who has met an Arab boy lately? (everyone raises hands) Where did you meet them?
-Beside the temple
-How do you feel when you meet an Arab child?
-Anger, anger…. I want to kill him.
-How do you feel when you meet an unbelieving Jew?
-I hurt him for being a laic.
-Why do you hurt him?
-Cause it's not on the right track.
-What will Jerusalem look like in 10 years?
-All will be devout Jews
-Arabs will also live as slaves.
-Because the Messiah will come? It is very beautiful. So what do you think?
-There will be a great war, all Arabs will die.