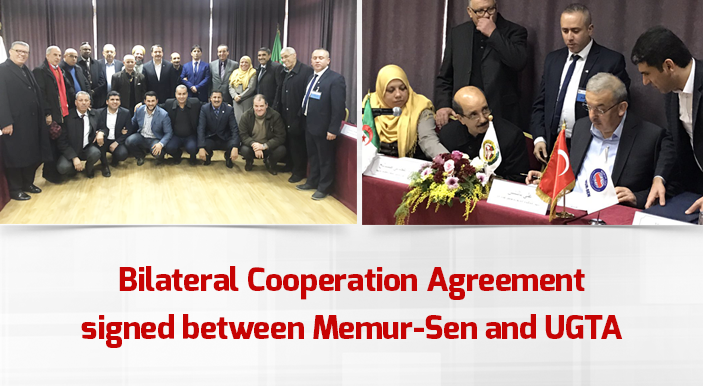 Bilateral Cooperation Agreement signed between Memur-Sen and UGTA
---
12.01.18, Friday
A delegation from the Memur-Sen Confederation, led by President Ali Yalçın and including Vice President Mehmet Bayraktutar, visited Algeria from 09 to 11 January for a working and exchange visit. This visit was an invitation from Mr. Abdelmadjid Sidi-Saïd, Secretary General of the General Union of Algerian Workers (UGTA).
As a result of relations between the Memur-Sen and UGTA confederations, the parties signed a bilateral cooperation agreement on the sharing of good practices and exchange of experience.
Strengthening bilateral relations
With Turkey's historical and cultural ties to Algeria, the bilateral cooperation agreement signed between the Memur-Sen confederation and the UGTA represents not only the beginning of a stable and lasting cooperation process but also above all, an important step in the development of relations between the two countries.
In this regard, President Yalçın spoke in these terms about cooperation: "We are convinced that the sharing of knowlegde will help to advance the trade union movement between our two organizations.", he said.
After reviewing the situation of the trade union movement in Algeria, the parties discussed a wide range of issues that include the reform of the labour code in Algeria, vocational training, integration of people with disabilities into social life, women, youth, employment and economic development and the issue of migration.