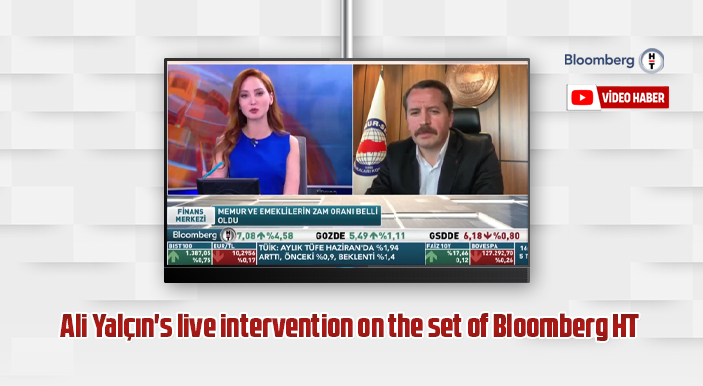 Ali Yalçın's live intervention on the set of Bloomberg HT
---
07.07.21, Wednesday
Following the announcement of the June inflation rates, Memur-Sen President Ali Yalçın was invited on the set of Bloomberg HT TV channel to express the demands and expectations of the civil service workers.
Following the announcement of the June inflation rates and the 8.45% wage increase for the second half of 2021, Ali Yalçın said, "Inflation has caused severe damage to wages. Make no mistake, this 8.45% increase is not an increase in real terms. Salaries would have to have been increased by 18 percent to be considered a rebalancing, but at these levels, taking into account the projected inflation over the next 6 months, civil servants' salaries will be a shadow of their former selves, shrinking like a stone." 
Referring to the collective agreements on the 2019-2021 period, which Memur-Sen had refused to sign, Yalçın said, "Although the purchasing power of public employees is, in principle, protected by an allowance equal to the inflation gap, the figures presented by the National Statistics Institute are far from reflecting the reality on the ground. For this reason, we have organized simultaneous protest actions that have been followed throughout the 81 provinces of Turkey to show our discontent," he said.
Highlighting the importance of the upcoming collective negotiations that will begin in August, Yalçın said Memur-Sen will fight to defend the rights of more than 6 million people, including 4 million active civil servants and 2 million retired civil servants: "We will demand that the Ministry of Finance sit at the negotiation table with the real intention of providing for the income losses due to inflation. It is clear from our 10 years of experience that there is everything to lose and nothing to gain by repeating the outdated methods of the past.
Yalçın expressed his expectations with the following words: "First of all, we consider decent work to be indispensable for collective welfare, which is why we have demanded a 10 percent improvement in the lowest salary of civil servants from January 2022. Another issue to which we attach the greatest importance is the guarantee of permanent employment in the public sector. Indeed, contractualization in the public sector must be stopped, otherwise we are heading for inextricable problems. In this sense, no distinction should exist among public service workers. "He said.