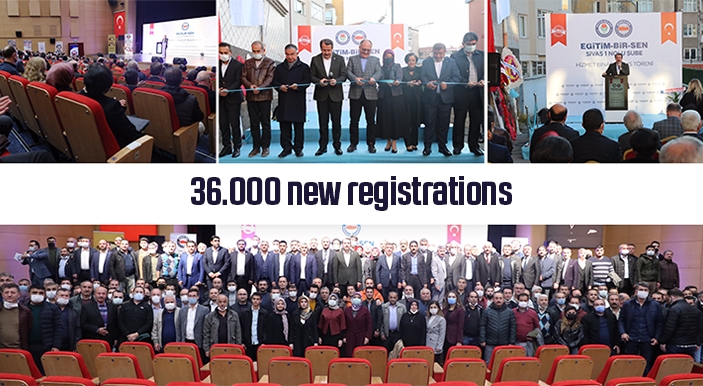 36.000 new registrations     
---
10.11.21, Wednesday
Ali Yalçın, President of Memur-Sen, who continues his visits to Memur-Sen provincial representations across the country, participated in the trade union activities organized by the Memur-Sen representation in Sivas province. Where Yalçın welcomed the 36,000 new memberships registered in the past two months, which play a key role in strengthening the Memur-Sen confederation.
Yalçın commented on the benefits resulting from the collective agreements for the 2022-2023 biennium, which through the branch agreements have raised the salaries of public employees by 32-40% for the next two years, he also emphasized the importance of the 300 social advances achieved by the confederation.
Yalçın also stressed the importance of the 300 points of demands achieved during the recent collective negotiations (sectoral and general), hailing "a viable compromise", which includes "provisions on improvements in terms of allowances and social benefits." he said.
Stressing the determination of Memur-Sen who negotiated, often hard, every point to the last comma. Addressing members of the Memur-Sen organization at activities organized by the Memur-Sen representation in Sivas, Yalçın said, "Memur-Sen has succeeded in achieving radical changes on issues such as the re-evaluation of promotion, promotion and retirement bonuses, but also responses to the wishes of civil servants regarding geographic and professional mobility, and especially on the issue of ending the use of private law contractual jobs in the civil service, previously considered beyond the scope of collective bargaining. In this respect, our perseverance has finally paid off," he said.
On the sidelines of the trade union activities, before continuing his exchanges with Mr.Ergüven Aslan, director for National Education of the city of Sivas, during a reception organized by the city hall of Sivas, Ali Yalçın and Hilmi Bilgin, mayor of Sivas, exchanged on the role of the public service unions.