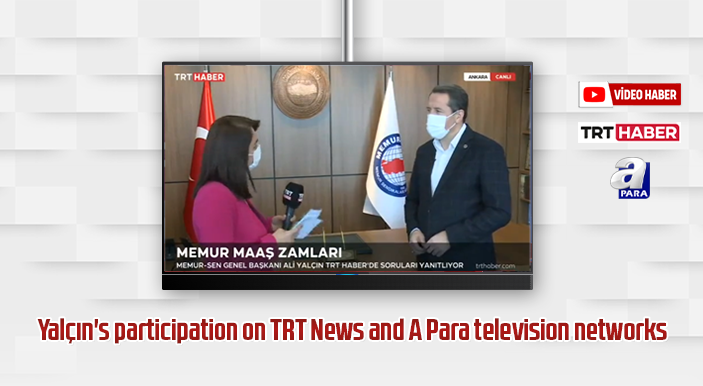 Yalçın's participation on TRT News and A Para television networks
---
27.08.21, Friday
Guest of the live on TRT Haber and A Para sets, Ali Yalçın, President of Memur-Sen, was asked about the contributions of the collective bargaining for the next biennium signed between Memur-Sen and the public employer.
Sharing his conclusions regarding the advances achieved in the Collective Agreements co-signed with the government last Tuesday, Ali Yalçın said: "In addition to the general salary increase of 5+7% for 2022 and 8+6% for 2023, Memur-Sen has also obtained significant advances in terms of bonuses and allowances for all public employees as well as a commitment from the government on an increase in retirement allowances and an increase in the coefficients of bonuses by grade and level of function, the results of which will be made public no later than during the year 2022. ", he commented.
In addition, responding to reporters on the issue of progress in terms of social rights, Yalçin said he was pleased to note the increase in the bonus reserved for unionized public officials, which will therefore rise from 536 TL to 1600 TL/year (+300%). Adding that: "With the premiums and allowances obtained in particular at the sectoral branches, the wages of public officials will be revalued between and 32% and 40% for the next two years," he said.
Noting that Memur-Sen had initially demanded a 38% wage increase for the next two years, Yalçın added, "As a trade unionist, we would have liked more, but we obtained a general wage increase of around 28.61% and there are times when you have to conclude," he insisted, saying he was "very proud that Memur-Sen knows how to be very firm in negotiations and in the end act on the compromise, when it is positive for the workers. ", he underligned.
Finally, deploring the inadequacy of the legal deadlines for collective bargaining, Yalçın said, "Even though the work goes on until late at night, due to lack of time, most of the negotiation points do not have time to be addressed and therefore the whole negotiation process is affected to the detriment of the workers," he concluded.