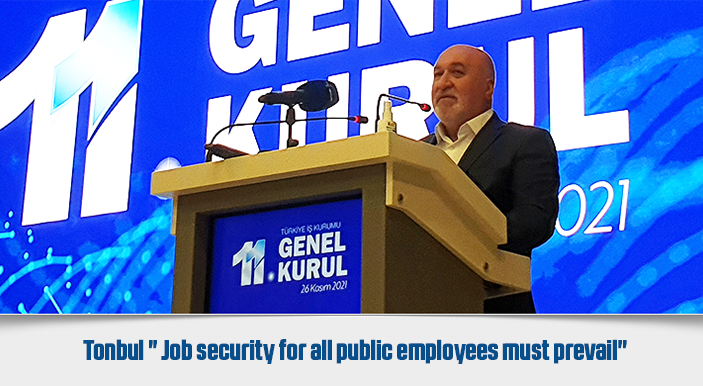 Tonbul " Job security for all public employees must prevail"
---
30.11.21, Tuesday
Invited to speak at the 11th Ordinary General Assembly of the Turkish Employment Agency (İŞKUR), in Ankara, Hacı Bayram Tonbul, Vice President of Memur-Sen, said : "A representative of the civil servants' trade unions, should be able to be part of the executive of the Turkish Employment Agency (İŞKUR), as is already the case with the Social Security institution. "
Addressing the participants, Tonbul said, "As trade unions, against exploitation through labor in all its forms, inequality at work, wage discrimination and disregard of fundamental freedoms, we have unwavering faith in social progress, in the possibility of a better society." adding that, "The social bond grows as the bond between employees and their employers grows stronger."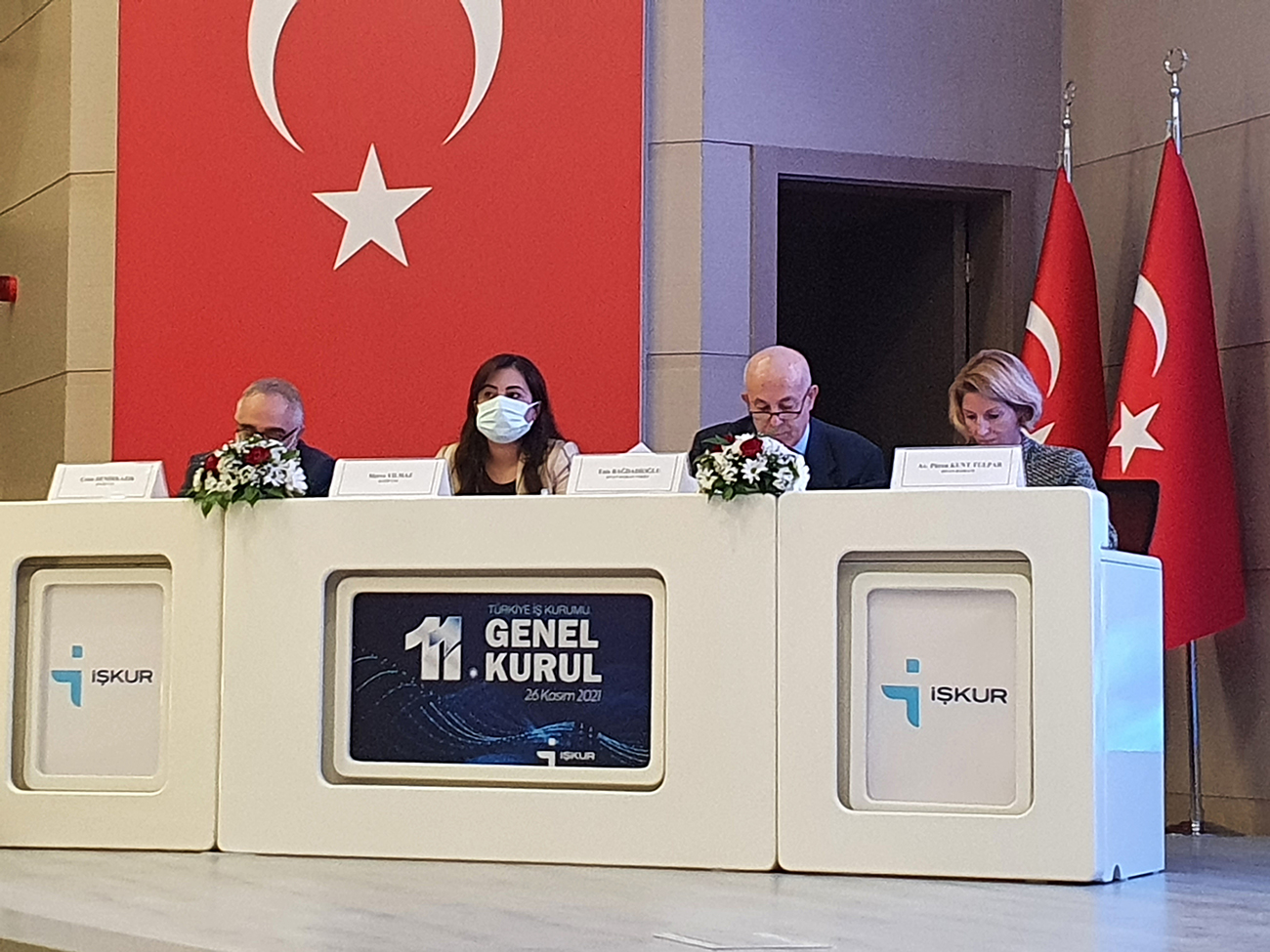 Adding that "trade unions are paramount social actors," Tonbul said: "While international financial institutions have raised the growth forecast for the Turkish economy for 2021 from 5.8% to 9%, Turkey is facing a worryingly high unemployment rate. In order to fight unemployment, we advocate interest rate cuts, tax deferrals, additional back-to-work assistance, unconditional monetary support for vulnerable households, large investments especially in the high-tech, health and education sectors, as well as increased cooperation between public sectors," he said.
Welcoming the importance and priority given to the employment of women, youth and people with disabilities at the center of employment policies, Tonbul said, "At 22%, the youth unemployment rate is too high, the reduction of youth unemployment will only be possible if the employment-education relationship is established properly, Tonbul stressed that close cooperation should be established with the Council of Higher Education and the Ministry of National Education in order to establish a sound education-employment framework.
Stating that informal employment is another recurrent and underlying problem of our economy, Tonbul called on social actors to take concrete measures to reduce informal employment: "To produce correct and sustainable solutions, it is necessary to count on the collaboration of all social partners without exception", recalling that "There should be a trade union representative of civil servants, as it is the case for the Social Security, in the executive of the Employment Agency" he concluded.
Also present at the 11th Ordinary General Assembly of the Turkish Employment Agency was Ertuğrul Soysal, Deputy Minister of Labor and Social Security, Oğuz Kağan Güldoğan, Director General of the Turkish Employment Agency ( İŞKUR), Özgür Burak Akkol, President of the Confederation of Employers of Turkey ( TİSK), Bendevi Palandöken, President of the Confederation of Traders and Craftsmen of Turkey (TESK), Yusuf Çelebi, President for People with Disabilities of the Confederation of Craftsmen of Turkey, Hüseyin Öz, Vice President of the Turkish Confederation of Workers' Unions (Hak-İş- ITUC member) and Cengiz Delibaş, Deputy Secretary General of the Union of Chambers and Commodity Exchanges of Turkey (TOBB).