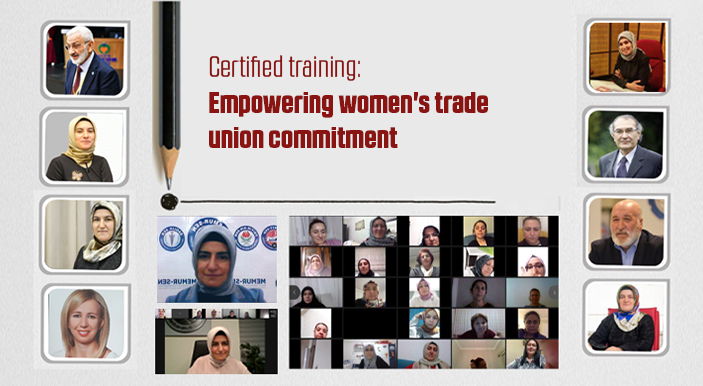 Certified training: Empowering women's trade union commitment
---
27.10.21, Wednesday
As an effective tool for transmitting knowledge and values, the certification program implemented by the Memur-Sen Women's Affairs Committee was aimed to strengthen the organizational development and representativeness of women in the trade union field.
On the occasion of her opening speech, Mrs. Sıdıka Aydın, President of Memur-Sen's Women's Affairs Committee, recalled that, "Training and empowerment of women on the topic of trade union involvement are important factors for the development of trade unions, the community, society and the country as a whole."
Divided into four one-day sessions, the online training course began with the theme of demands and advances that can be described as considerable, particularly on the issues of occupational health problems specific to women, work-family balance, negotiated working conditions and moral or physical harassment.
The second session, moderated by Fatma Zengin, focused on the role of women in organized struggle and trade unionism.
The third session, animated by Prof. Dr. Nevzat Tarhan Modern, dealt with the theme of modern professional life and women's mental health, especially in terms of professional - family life balance.
Finally, in order to integrate an international opening around women's trade unionism, the fourth session, animated by Dr. Jonilda Rrapaj, dealt with the theme of women's place and decision making in trade union organizations throughout the world.
The training was also above all an opportunity to offer these committed and passionate women a complete program of support around women's leadership.