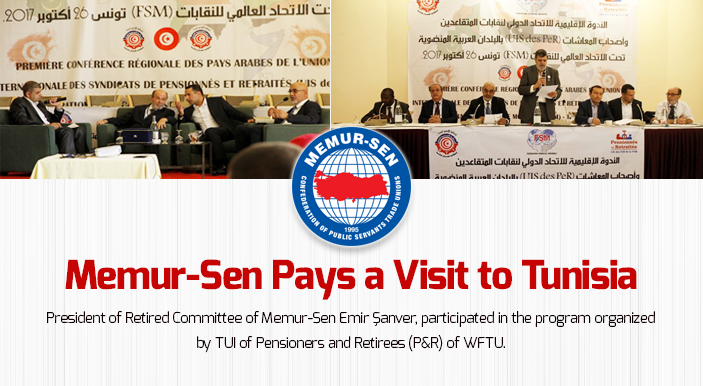 Memur-Sen Pays a visit to Tunisia
---
09.11.17, Thursday
Memur-Sen Confederation has strengthened its partnership with leading labour organizations in Tunisia. President of Retired Committee of Memur-Sen Emir Şanver, participated in the program organized by TUI of Pensioners and Retirees (P&R) of WFTU.
To encourage knowledge exchange and to enhance trade union collaboration Memur-Sen got in touch with TUI of Pensioners and Retirees (P&R) of WFTU and other leading trade unions representatives.
"Memur-Sen is a firm believer in strengthening our partnerships with Confederations in every part of the world in the field of trade unionism and cooperation. Today we further enhance the strong bonds and we also hold similar aspirations to build a brighter future for our retiress", said Emin Şanver. To bright future in every aspects of life, trade union struggle should be available from the cradle to the grave. "Life does not come to a stop when you retire from work.", emphasized Şanver.