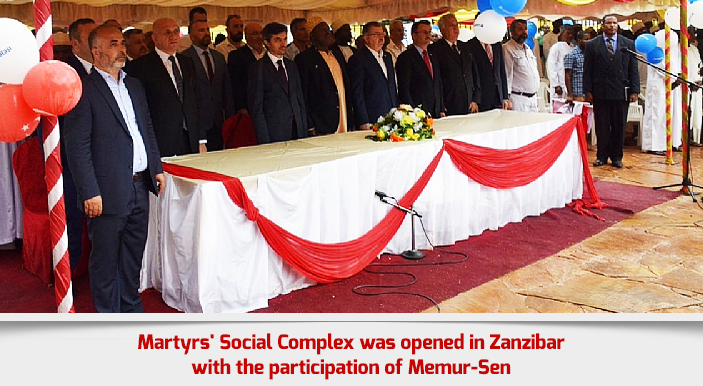 Martyrs' Social Complex was opened in Zanzibar with the participation of Memur-Sen
---
27.10.17, Friday
15th of July Martyr's Social Complex, which was built by philanthropists in Turkey, led by the Sadakataşı Association in Zanzibar Island, Africa, was opened to service with the participation of the Memur-Sen.
15th of July Martyrs' Social Complex, which was laid on the basis of 5 thousand 887 square meters in April 2015, entered service with the ceremony. Memur-Sen Vice-President Hacı Bayram Tonbul, MP Ahmet Gündoğdu who is honorary president of Memur-Sen, Ak Party Şanlıurfa MP Mahmut Kaçar, as well as representatives of the Sadakataşı Association, politicians and many NGO administrators participated in the ceremony.
The opening of the Haci Osman Var Mosque, which has a capacity of 350 people and was built on an area of 225 sqm, took place. After the opening, the first adhan in the mosque was recited and the community prayed together. Following the prayer, Haci Ayşe Var school and social complex was opened. In the settlement, there will be a mosque and classrooms, as well as a dormitory, library, dining hall, kitchen, administration building, lodging, sports hall, bathroom, and also a thousand people would benefit from the complex.
Speaking at the opening ceremony, the Honorary President of the Memur-Sen, the Turkish Grand National Assembly Administrative Chief and the AK Party  Ankara MP Ahmet Gündoğdu said that all the Muslims were brothers and they were in Zanzibar for the reinforcement of their brotherhood.
.